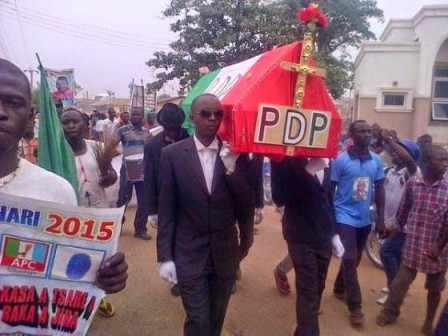 Some youths, male and female at the weekend in Ogbia, the local government area of former President Goodluck Jonathan in Bayelsa State, announced a burial plan for the Peoples Democratic Party after decorating a mock coffin with the colours and a flag of the Peoples Democratic Party (PDP).
The youths took the coffin into a venue arranged for a rally of the All Progressives Congress (APC) and its candidate in the December 5 governorship election.
According to a report, the youths place the coffin on a stage and inscribed on it: "PDP Rest in Peace." The youths also erected a signpost indicating burial arrangements of the party on December 5.
Round the coffin were traditional items used to bury deceased persons based on the tradition of the Ijaw people.
The youths who were dressed in traditional black T-shirts first carried the coffin in a procession round the Ogbia town before bringing it to the venue of the rally, The Nation Online reported.

Load more