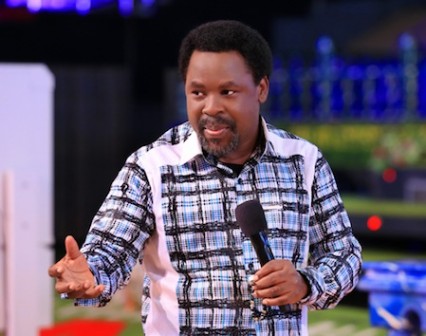 Henry Ojelu
The trial of trustees of the Synagogue Church of all Nation, SCOAN and two engineers that constructed the collapsed building that killed about 116 persons in 2013 was stalled today due to the absence of three of the defendants in the trial.
Lagos State Government had charged the defendants – Registered Trustees of the church, Hardrock Construction Company, Jadny Trust Ltd, Oladele Ogundeji and Akinbela Fatiregun over their indictment and subsequent recommendation for prosecution by the Coroner Inquest it set up to investigate the cause of the collapse leading to the death of 116 people mostly South Africans in September 12, 2014.
The Coroner Inquest set up by Lagos State and presided over by Magistrate Oyetade Komolafe, had in its verdict of August 7, 2015 ruled that the Synagogue Church and its contractors were essentially negligent in the fatal collapsed of the six-storey guesthouse.
The scheduled arraignment before Justice Lawal Akapo could not go on today due to the absence of three out of the five defendants to be arraigned.
At the commencement the proceedings, Justice Akapo, observed that the 3rd, 4th and 5th defendants were absent in court.
The prosecuting counsel, the Lagos State Attorney General, Adeniji Kazeem, however told the court that the defendants could not be served with the court process because they have no verifiable address.
"We confirmed that Synagogue Trustees and the Hardrock Construction Company have been served. The other defendants in the matter could not be served because their addresses are not valid," the AG said.
Giving reasons for their absence, Counsel of the 1st and 2nd defendants, Oluseun Abimbola, told the court that the defendants have not been served with the information of the matter by the Ministry of Justice.
"The State cannot say that they don't have valid address because they were served in previous proceedings. The engineers, Oladele Ogundeji and Akinbela Fatiregun were even arrested by the Police and charged before a Magistrate court where they were later released on bail," Abimbola said.
After listening to both counsels, Justice Akapo cautioned the defence counsel to remind them that the matter is a criminal one with a sensitive nature.
"Service in any proceeding is fundamental and anything done outside of this is a nullity.
"The defence counsel is hereby directed to oblige the prosecution team with valid addresses of the 3rd, 4th and 5th defendant within 72 hours," the judge held.
The judge thereby adjourned the exparte motion for substituted service till December 11.
The defendants were to be arraigned on 111 count charges bordering on failure to obtain building approval contrary to section 41 of the Urban and Regional Planning Law of Lagos State 2010.
They were charged for involuntary manslaughter causing death contrary to section 222 of the Criminal Law of Lagos State 2011.
The defendants in the suit are: the Registered Trustees of Synagogue Church of All Nation (SCOAN), Hardrock Construction and Engineering Company, Jadny Trust Limited, Oladele Ogundeji and Akinbela Fatiregun.

Load more