Taiwo Adelu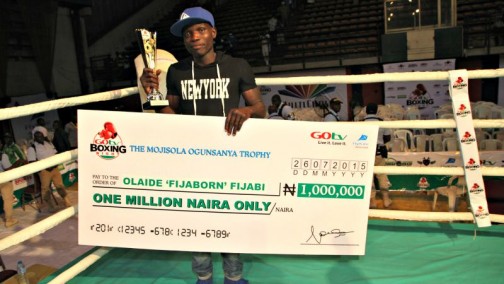 Light Welterweight boxer, Nigerian Olaide 'Fijaborn' Fijabi, has said that his role model in the world of professional boxing is retired American boxer, Floyd Mayweather.
Fijabi, a former Lagos State amateur champion, who turned professional during the first edition of GOtv Boxing Night held a year ago at the National Stadium, Surulere, Lagos, said that he would like to become great in the pugilist trade like Mayweather.
Mayweather, an American professional boxer was undefeated, as a professional and a five-division world champion. He won 12 world titles and the lineal championship in four different weight classes.
"My role model is nobody but Floyd Mayweather Jnr," Fijabi said in an interview.
"I love the way he fights in the ring and I enjoy watching him. I must confess, I have learnt a thing or two from his boxing skills."
On why he chose boxing, Fijabi said: "Actually, I never liked boxing not until a particular day when a friend bullied me. I got home and my parents chastised me. I was then forced to learn how to box and to the glory of God, I'm now a professional boxer."
Fijabi made his mark in the amateur boxing cadre before he turned pro last year. "As an amateur boxer, I was national champion three times. I also won eight gold medals at the National Sports Festivals. I was convinced that I had seen it all at that level and I decided to turn professional.
"I was gold medalist in 2007 and 2008, but the funniest thing was that I was never picked to represent Nigeria. I thought the coaches were not comfortable with me, so I decided to turn professional, " he said.
Fijabi, however, disclosed that the promoter of GOtv Boxing Night, Flykite Promotions, Mr. Jenkins Alumona gave him the opportunity to turn pro.
"I never thought of turning professional if not for the coming of GOtv Boxing Night and Flykite, this is because the way boxers before me were living from hand to mouth, was humiliating," he said, noting that, "I thought it was better to remain an amateur because I don't want to live like them.
"When my coaches told me of the package of GOtv Boxing Night, it was difficult to reject it, " he said.
Fijabi was a happy man when he was adjudged best boxer in his debut bout as a professional. He won the sum of N1million as the best boxer in his second fight. "I felt good because I never knew I would be selected as the boxer of the night.
"I spent the N1million judiciously. I bought myself some training kits and did some donations to some people that are less privileged. The rest was used to cater for some other things."
Fijabi, who is handled by Joe Mensah, a veteran boxing coach, is already looking forward to the end of the year GOtv Boxing Night, which comes up on 26 December in Lagos, and he has words of warning for his yet to be known opponent. He said: "My opponent should be prepared for more beating. Whoever my opponent is in December's edition of GOtv Boxing Night will see fire."
The boxer who is optimistic that he has a great future ahead of him said: "I don't want to see myself as a champion yet because there is still more to come. My ambition, however, is to be a world champion in my category and I will be," he said.

Load more