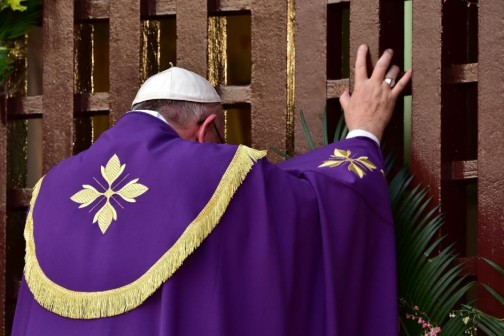 Pope Francis on Sunday urged the warring factions in Central African Republic to lay down their weapons as he brought a message of peace to a country ravaged by sectarian violence.
"To all those who make unjust use of the weapons of this world, I make this appeal: lay down these instruments of death!" he said in the capital Bangui after flying in from Uganda on his final leg of a three-nation tour of Africa, which he has hailed as "the continent of hope."
As his plane touched down, those waiting burst into cheers and singing as he began a 24-hour visit to one of Africa's poorest and most unstable countries on a trip that has had his security detail working overtime.
For the short ride to the presidential palace, Francis travelled in his open-topped popemobile, with huge crowds, many of them children and young people, cheering wildly as he passed, some waving branches in a sign of peace.
"I come to the Central African Republic as a pilgrim of peace and as an apostle of hope," said the 78-year-old pontiff who began his African tour on Wednesday with a three-day visit to Kenya.
The first papal visit to a conflict zone elicited an outburst of emotion from overwhelmed locals.
"After all we've been through… I just don't know what to say. He really did it, he came to us!" said Rachel, a young woman, her voice breaking with emotion as she recounted how she managed to push through the crowd to touch the hand of the pope.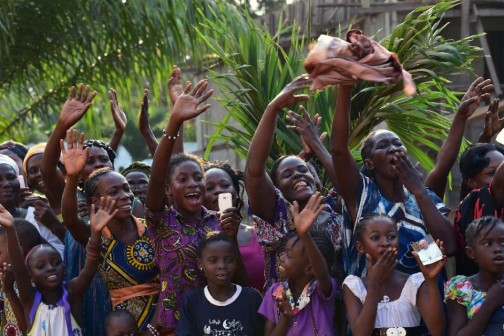 The landlocked nation descended into bloodshed more than two years ago after longtime Christian leader Francois Bozize was ousted by rebels from the mainly Muslim Seleka force, triggering the worst crisis since independence in 1960.
Since then, the former French colony has been gripped by deadly violence between ex-Seleka members and Christian "anti-balaka" (anti-machete) militias.
In a gesture likely to resonate deeply among the country's 1.7 million Catholics, who make up more than a third of the population, Francis opened a "holy door" during a mass at Bangui Cathedral, marking the beginning of a Jubilee year dedicated to forgiveness and reconciliation.
Although the Jubilee Year will formally be inaugurated on December 8, opening the door marks its symbolic start. Until now, such a gesture has only ever taken place in the Church's headquarters in the Vatican or in Rome.
"Bangui has become the spiritual capital of the world," the pontiff said.
– 'Evil' –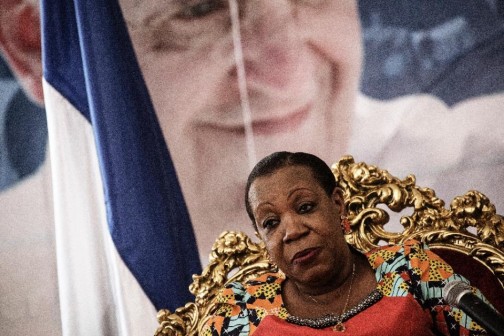 Earlier, he met acting president Catherine Samba-Panza at the presidential palace who begged his forgiveness for the wave of "evil" sectarian violence that has devastated the country.
"Central Africans have inflicted unspeakable suffering on other Central Africans," she said.
In his own address, Francis called for unity, urging the people to avoid "the temptation of fear of others, of the unfamiliar, of what is not part of our ethnic group, our political views or our religious denomination."
He also said he hoped the upcoming elections would allow the country to peacefully begin a "new chapter".
"It is my fervent wish that the various national consultations to be held in coming weeks will enable the country to embark serenely on a new chapter of its history," he said ahead of a first round of presidential and legislative elections scheduled for December 27.
– 'He did it' –
The leader of the world's 1.2 billion Catholics also visited a camp for around 3,000 displaced people in central Bangui in the Catholic parish of Saint Saviour.
"The pope has come to ask God to save us," said camp inmate Fidele Nodjindorom.
UN figures show close to 450,000 people remain internally displaced by the recent violence.
As he entered the camp, a sea of hands reached out to him as the pope wandered past a crowd packed with children and parents holding their toddlers out towards him.
And in a visit that was not on his itinerary, the pope went to a paediatric facility and donated medicine given by a Catholic hospital in Rome.
On Monday, he will meet members of the Muslim community and visit a mosque in Bangui's flashpoint PK5 district, a maze of red dirt roads and flimsy shacks at the heart of the latest violence in the coup-prone country's history.
He will also celebrate a huge mass at the city's 20,000-seat Barthelemy Boganda Stadium.

Load more