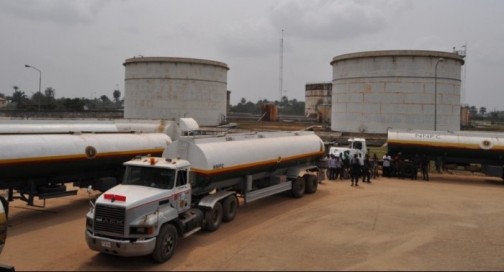 Depots and Petroleum Products Marketers Association of Nigeria (DAPPMA) said its members had begun massive loading of petroleum products to ease the effect of their scarcity in the country.
Mr Olufemi Adewole, the Executive Secretary of the association, told NAN in Lagos that the loading was going on in Lagos, Oghara, Warri, Calabar and Port Harcourt where the members had depots.
Adewole said that the marketers were doing this, hoping that the payment of outstanding subsidy debts owed since August 2014 would be passed by the National Assembly (NASS).
"DAPPMA member depots that have petroleum stock are loading massively in Lagos, Koko, Oghara, Warri, Calabar and Port Harcourt.
"While awaiting the payment of outstanding subsidy debts owed since Aug. 2014, DAPPMA members have been speaking to their banks for loan facilities.
"While some have obliged and opened fresh loans to import Premium Motor Spirit (PMS), some banks claimed their external lines are fully utilised.
"All the same, we are hoping for a speedy passage of the supplementary budget and payment to marketers.
"We expect the Central Bank of Nigeria (CBN) to make adequate provision of foreign exchange to enable us pay off our foreign suppliers," he said.
On the allegations that private depots were loading above government price, Adewole said DAPPMA members were complying with PPPRA specified ex-depot price.
NAN correspondent who monitored filling stations reported that most of independent marketers were selling between N120 and N130 per litre.
Meanwhile, few major marketers that sold the products at government controlled price witnessed long queues of motorists.

Load more