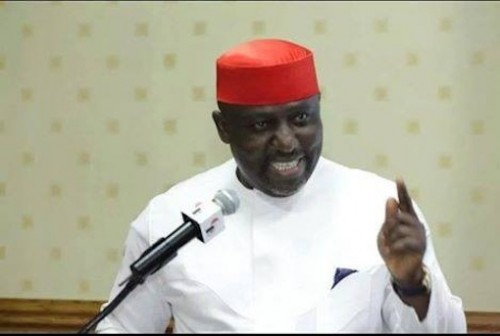 Governor Rochas Okorocha of Imo has said that the All Progressives Congress–led government and the people of the state do not want the state chapter of Peoples Democratic Party, PDP, to die, noting that, the government and the citizenry would benefit more if the PDP remains alive to play the role of an opposition party.
Okorocha stressed that in a democracy as we practice it today, opposition is very important and wishes that the PDP stays as a party to enable it play this noble role of opposition to the APC – led government while assuring that his government would continue to take steps to encourage the political parties including the PDP in the state.
The governor regrets the various factions scrambling for the soul of the PDP in the state at the moment and urged the leaders to take all the necessary actions to restore peace in the party to prevent it from total extinction. He added that what the PDP in the state needs now is unity among the leaders and not war among themselves as it is the case in recent times.
He also advised some leaders of the party who had for politically related reasons formed certain motley groups that have been attacking his government to invest such energy in resuscitating the PDP in the state. "One of the groups is led by one Hon. Ray Emeagha and one other group is led by Barr. C.O.C. Akaolisa, the former legal adviser to the State Chapter of the PDP. The truth is that the most important thing the PDP leaders in the state need to do now is to prevent the party from hitting the rock by peacefully dealing with the multi-faceted factions struggling over who takes the franchise of the party in the state," a statement by Okorocha's chief press secretary, Sam Onwuemeodo said.
The governor reiterated the importance of opposition to his government, since he would not like to be governor in a state where there is no coordinated opposition to his administration.
He explained that he has always encouraged the opposition in the state, and that is why the Rescue Mission government in the state has never insulted or attacked anybody for insulting, criticising or opposing the government or himself as the governor, and would continue to improve on that enviable record.
The Imo governor assured that he would continue to provide the enabling environment that would promote healthy criticisms and opposition. He however appealed that such opposition and criticisms should be in the corporate interest of the state and her people.

Load more