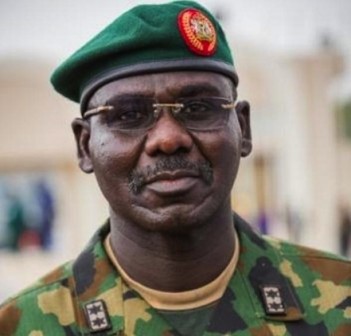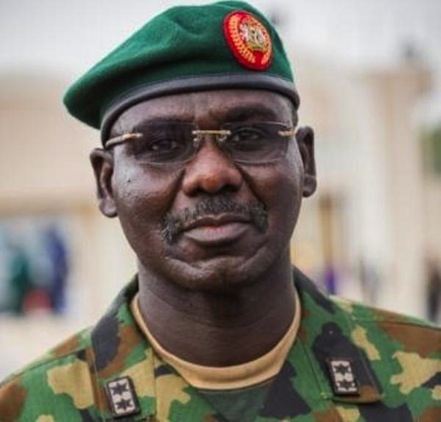 The Chief of Army Staff, Lieutenant General Tukur Yusufu Buratai has expressed dissatisfaction over recent successful attacks by members of Boko Haram insurgent group on military bases in the Northern part of the country.
Colonel Sani Usman, Acting Director of Army Public Relations said the General Buratai expressed dissatisfaction with the troops conduct and warned that such incident should not repeat itself during his visits to Gajigana, Magumeri Local Government Area of Borno State on assessment of troops location that was attacked by Boko Haram terrorists last Sunday.
The Chief of Army Staff was received and conducted round troops' deployment by the Commander 5 Brigade and the Commanding Officer of 243 Battalion.
According to him, while fielding questions from journalists that accompanied him, the COAS stated that he was there to see things for himself, assess the situation and give necessary directives.
Usman said the COAS also called on the public especially those residing in the affected area to support and cooperate with the troops by exposing suspected Boko Haram terrorists that live among them.
"He also stated that the recent wave of attacks by terrorists in Gulak and Gajigana should be seen as isolated cases that would not be allowed to repeat itself because adequate measures are being taken to deal decisively with the any of such occurrences.
"He also assured that the military and the security agencies would continue to improve their performances. He also warned troops to be more proactive and alive to their duties as everything is being done to support them," said Usman.
The Army public relations chief noted that recent attacks had every element of criminality, as such the people need to fully support the security agencies to finally defeat terrorism and criminality in our society.
The COAS was accompanied by the Theatre Commander, Operation LAFIYA DOLE, General Officer Commanding 7 Division, Acting Director Military Intelligence and the Acting Provost Marshal (Army).
Also on the entourage were representatives of Nigerian Security and Civil Defence Corps and the Nigerian Police attached to the Military Command and Control Centre.
It will be recalled that Boko Haram attacked our troops location in Gulak on Sunday which was repelled. The troops also killed 3 Boko Haram terrorists, while quite number escaped with gun shot wounds. In addition, a Toyota Hilux, 1 PKM gun, 1 General Purpose Machine Gun, 3 AK-47 rifles, 1 Rocket Propelled Grenade tube and 1 Rocket Propelled Grenade bomb were recovered by the troops.
Other recoveries include, 1 Charger, 7 Boxes of 7.62mm Link, 1 GP 340 Hand Held Radio, 4 Boxes of 7.62mm X 54mm Ammunitions, 3 Anti Riot Hand Held Grenade, as well as 30 Cleaning Kits, 2 Packets of Artillery Primers and 97 pieces of Zela fuse.
The troops are further pursuing the escaping terrorists and also exploiting to further block such kind of incursion through their blocking position.
Usman said the attacks on the the troops at Gajigana led to the death of a soildier. He added that the location have also been reinforced and the troops are now poised for any eventuality.

Load more