Kazeem Ugbodaga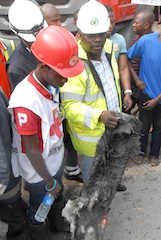 The Lagos State Emergency Management Agency (LASEMA) has warned dealers and end users of fireworks to be careful with the sales and usage of fireworks popularly known as "Biscoe and Banger" because of the potential hazard of the device to the people and the environment.
It warned that users of fireworks shall be made to face the wrath of the law as they could lead to disasters which the state is trying to prevent at all costs.
The General Manager, Lagos State Emergency Management Agency (LASEMA), Mr. Michael Akindele gave the warning on Wednesday in Lagos, southwest Nigeria, saying that the Lagos State Police Commissioner has outlawed the use of this device for the safety of life and properties in the state.
He recounted the 26 December, 2012 Jankara fire outbreak caused by the storage of fireworks in some of the shops leading to loss of life and properties worth millions of naira.
The General Manager alleged that the noise created by fireworks and the large amounts of debris and fallout left over after shooting might also cause health hazards and environmental nuisance which could degenerate to disaster under certain conditions which might be inimical to communities and neighborhoods where the users live.
He also added that the careless use of fireworks might be dangerous to the users as they stood the risk of sustaining burns and wounds as well as harming bystanders or cause fire outbreak when thrown on inflammable materials.
Akindele enjoined parents and guardians to warn their children and wards to desist from the use of fireworks, especially "banger," stressing that the agency would work with security operatives to apprehend defaulters within the ambit of the law.
The General Manager said that the state government is seriously concerned about the safety of life and properties of all Lagosians, and has placed on red alert all the relevant agencies and security operatives to combat any form of crime and emergency/disaster across the state.
He re-affirmed his agency's readiness and commitment to the management of emergency/disaster in the state through prompt intervention and extending its tentacles to all the nooks and crannies of the state.

Load more