Akin kuponiyi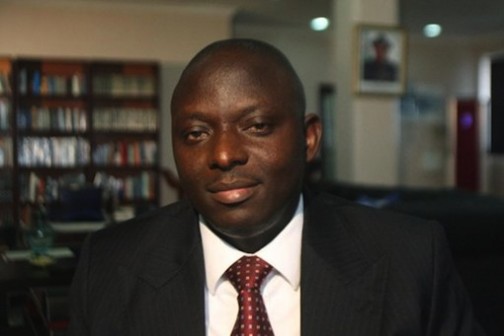 Nigeria's Economic and Financial Crimes Commission (EFCC) Thursday arraigned the former Director General of Nigeria Maritime Administration and Safety Agency (NIMASA) Dr Patrick Ziakede Akpobolokemi, before a Federal high court in Lagos, southwest Nigeria.
Also arraigned alongside the former NIMASA boss are seven accused persons and two companies namely: Captain Ezekiel Bala Agaba, Ekene Nwakuche, Felix Bob-Nabena, Captain Warredi Enisuoh, Governor Amechee Juan, Ugo Fredrick, and Timi Alari, while the two companies are, Al-kenzo Limited and Penniel Engineering Services Limited.
When the matter was mentioned, the EFCC prosecutor Oyedepo Rotimi applied to the court for the charge to be read to the accused persons so that their plea can be taken. All the defence Lawyers led by Dr Joseph Nwobike did no raise any objection.
Consequently, the presiding Judge Saliu Saidu ordered the charge to be read.
In a thirty-count criminal charge number FHC/L/496C/15 signed and filed before the court by EFCC prosecuting counsel Barrister Festus Keyamo, it was alleged that Dr Patrick Ziakede Akpobolokemi and other co-accused mentioned earlier and Grace Z. Subai alleged to be at large, between 20 December, 2013 and 28 May, 2015, were alleged to have conspired together to steal and converted the sum of N3,407,549,000, property of NIMASA thereby committed an offence contrary to and punishable under sections 15(1),15(3) and 18(a) of the Money Laundering Act of 2012 as amended.
When the charge was read to the accused persons, all of them pleaded not guilty, thereafter Dr Joseph Nwobike leading nine other lawyers who adopted his submission while arguing his bail application filed before the court applied for bail in liberal terms on the ground that the accused are presumed innocent until proven guilty.
In addition Dr Nwobike submitted further that the accused who are on EFCC administrative bail came from their respective homes will not jump bail if granted bail.
However, the EFCC prosecutor Mr Oyedepo Rotimi, while not opposing the bail of the fourth to eight accused persons, opposed the bail of Patrick Ziakede Akpobolokemi on the ground that when he was granted administrative bail by the EFCC, he jumped bail, and failed to come back to the commission until his sureties were arrested and detained.
In his ruling, the presiding Judge Saliu Saidu, admitted Patrick Ziakede Apolobokemi to bail in the sum of N100 million with two sureties, one of the sureties who must be his relation must be a landed property owner in either Ikoyi, Victoria Island or Lekki.
Ziakede must also deposit his International passport with the court, while the other accused persons were granted bail in the sum of N50 million with two sureties, one of the sureties must be a landed property owner in either Ikoyi or Victoria Island. All the documents of the landed property are to be verified by the court Registrar.
Thereafter Justice Saidu adjourned till 29 January,2016 when the trial of the accused persons will commence.

Load more