Jethro Ibileke/Yenagoa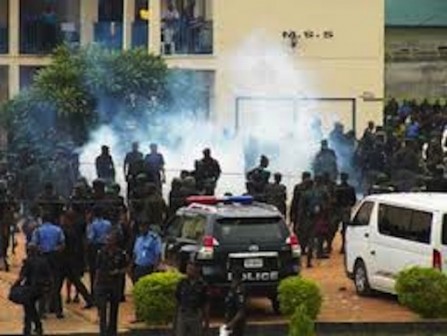 As the countdown for Bayelsa governorship election wind down people of the state are getting geared up for the Saturday, 5 December polls to elect their governor, security operatives are gradually taking over the entire state also.
The security operatives who are armed to the teeth are made up of men of the Nigeria Police, Nigeria Security and Civil Defence Corps. They are situated at strategic points on all entrance roads leading to Yenagoa, the state capital.
Most vehicles entering the town from New Road, through Glory Drive and Ubiama Road, are subjected to stop and search by the eagle-eyed operatives, apparently to ensure that the election goes hitch-free.
They were however observed to be very cautious, friendly but firm in the course of discharging their duty.
The atmosphere in the state capital is however peaceful, as residents are seen going about their businesses peacefully and they appear to be ready to go to the polls to elect candidate of their choice to be governor for the next four years.
A resident of Yenagoa who gave his name simply as Timi, said he is delighted that the election is finally here to decide who is their next governor. He also expressed optimism that the election will be peaceful.
"I thank God that the election is here. We will go to the polling booths on Saturday to elect who will be governor, and I think the election will be very peaceful," Timi said.
To ensure adequate coverage for the election, journalists from all over the country have arrived Yenagoa in preparedness for the Saturday governorship election. Journalists from both print, electronic and online media houses literally invaded the Bayelsa State Council of Nigeria Union of Journalists, (NUJ), Secretariat, located at Azikoro Road.
It was also gathered that observers from both the local and international communities have stormed the state to see how the election in the home state of former President Goodluck Jonathan will go.
The Secretary of the State NUJ Council, Stanley Imgbi, said the Council is fully prepared to host all qualified journalists covering the election and assist them in whatever way they could.
"We are the go-between all qualified journalists covering the election and the Independent National Electoral Commission (INEC). We are giving them every necessary assistance to get accredited to enable them move freely on the day of the election," he said.

Load more