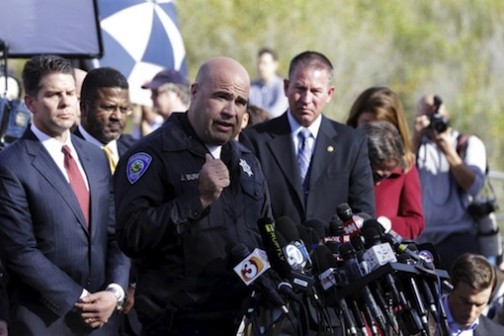 Los Angeles (AFP) – Six women and eight men were the victims of the mass shooting in California, US authorities said Thursday, releasing the names of all 14 of the dead.
The youngest victim of the carnage carried out Wednesday by a husband and wife in the city of San Bernardino was 26 and the oldest was 60.
"This shooting has caused each victim's family, friends and co-workers, along with the first responders, to suffer an enormous personal tragedy," said San Bernardino Sheriff John McMahon in a statement.
"We must stand strong and offer support to each individual affected by this senseless attack."
The victims were identified as:
Shannon Johnson, 45
Bennetta Bet-Badal, 46
Aurora Godoy, 26
Isaac Amanios, 60
Larry Kaufman, 42
Harry Bowman, 46
Yvette Velasco, 27
Robert Adams, 40
Sierra Clayborn, 27
Nicholas Thalasinos, 52
Tin Nguyen, 31
Juan Espinoza, 50
Damian Meins, 58
Michael Wetzel, 37
They died when Syed Farook, 28, and his wife Tashfeen Malik, 27, burst into a social services center hosting a holiday party and sprayed the room with bullets.
Farook had attended the party but had apparently left following a dispute, only to return heavily armed with his wife.

Load more