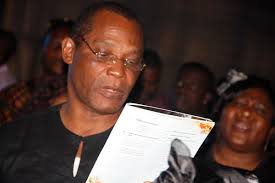 Veteran actor Norbert Young on Friday urged children to imbibe the Nigerian indigenous culture to further promote Nigerian cultural heritage and be responsible Nigerians in the nearest future.
Young gave the advice at the 2015 end of the year children cultural extravaganza organised by the National Institute for Cultural Orientation (NICO) .
He said that the essence of reciting the national pledge was to remind them of the value everything that makes them Nigerians.
The actor who was picked as the role model for the event said that Nigerian indigenous culture was the identity of every Nigerians including the children.
He said the pledge was an oath and promise they makes every day to value their culture.
He urged the children to always be proud of their indigenous languages, names, food and dresses.
" As your model for this event, I want you to imbibe your culture, do not jettison it.
" It is your origin and identity, promote it by practising it," he said.
Mr Louis Eriomala, the Director of the institute said that the programme was aimed at sensitizing Nigerians especially school children on the need to appreciate Nigeria's rich cultural heritage.
He said children needed to take pride in being Nigerians and the institute had taken the responsibility of making them appreciate and imbibe their culture by organising competitions for them.
" The competitions will enable you to develop more interest in practising and knowing more about your culture.
" You need to speak your indigenous languages and be proud you do.
" Create interest in other Nigerian indigenous languages to create room for acculturation.
" Stop attaching Brazillian hair to your hair dos it is not part of our culture," Eriomala said.
The News Agency of Nigeria (NAN) reports that 15 schools participated in the competitions.
Grannis Children Schools came first in Hairdo and Ayo game competitions, Bedrock College took first in the cooking competition while Kosofe Junior High School came first in the debate competition done in Yoruba language.
Pater Noster Primary School came first in the dress culture competition

Load more