• Award-winning series Africa Investigates back on Al Jazeera
• Babies are for sale in Nigeria for $4 000-5 000
• Full documentary available to embed from YouTube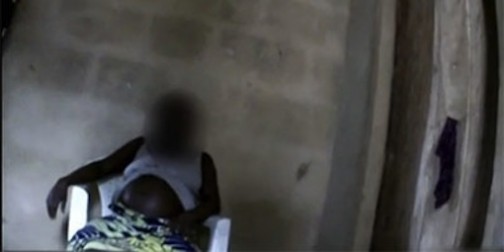 The third season of Al Jazeera's award-winning 'Africa Investigates' series continued on 4 December with Nigeria's Baby Farmers, where journalists Anas Aremeyaw Anas and Rosemary Nwaebuni went undercover to buy a baby in Nigeria.
WATCH PROMO VIDEO:

UNESCO first reported on cases of 'baby harvesting' in Nigeria in 2006. "Here, childless marriages are sometimes seen as shameful, or even troubled by witchcraft," says Anas. "At the same time, single mothers are frowned upon and abortion is illegal. Legal adoption takes a long time, so some couples try a short cut. And some unscrupulous people match the unwanted babies with childless couples for money, against the law."
Anas and Nwaebuni pose as a couple who have been unable to have a child in 12 years of marriage, and who are now being pressured to divorce by his parents.
Equipped with a secret camera, they visit private clinics and orphanages to find out how easy it is to buy a child illegally, with no questions asked.
They are offered a baby at Destiny's Child orphanage in Ulakwo by Ada Ezeoyi, for $4 000 for a girl or $5000 for a male child.
They are also offered a baby by Basic Clinic and Maternity Home in Imo State, owned by Doctor Ohaeri. They are asked for a similar figure.
They also expose unethical medical practise by Akinbode Damilola, a so-called miracle doctor who operates from a pharmacy in Delta State offering bogus fertility treatments.
WATCH FULL VIDEO:

"We were not able to care for a stranger's child ourselves, so we backed out of the deal," says Anas. "Our investigation has shone a light on parts of a sinister network. It involves genuine doctors and cynical staff in orphanages, who will sell vulnerable children to the highest payer. We have passed our evidence on to the authorities so that justice can prevail."
Africa Investigates is a groundbreaking Al Jazeera series that gives some of Africa's best journalists the opportunity to pursue high-level investigative targets across the continent – using their unique perspective and local knowledge to put corruption, exploitation and abuse under the spotlight. Previous documentaries in the series have won One World Media and Mohamed Amin Africa Media awards.
Nigeria's Baby Farmers repeats on Al Jazeera English on 4 December 2015 at 04:30, 5 December at 17:30, and 6 December at 06:30 CAT.
For more information, visit http://www.aljazeera.com/programmes/africainvestigates/.

Load more