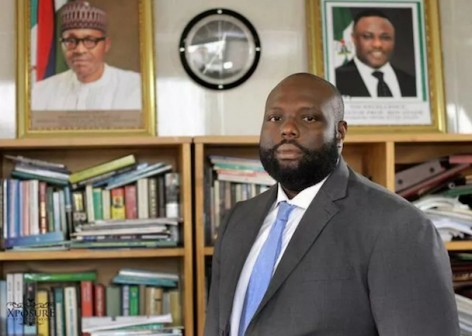 He is young, he is brilliant and he is proactive, those are some of the reasons why Asuquo Ekpenyong turn heads but there's more. At 30, when most Africans his age are still trying to find their place in life, Ekpenyong has begun to write his place in history and is also setting the pace for other youths.
While some governors still put faith in older people, some governors have gone further to show their confidence in the youth and what they have to offer by giving them an opportunity to sit at the table and participate in the administration of their states. One of such governors is Ben Ayade of Cross River State.
Considering his background, it is no surprise that he would appreciate knowledge and expertise and choose to surround himself with like-minded individuals as he works to serve the people of Cross River State.
On October 19th 2015, Governor Ayade submitted a list of 28 commissioner nominees to the Cross River State House of Assembly. The list included professionals such as Mr Goddy Etta, Mr. Etim Ayimobi, Mr. John Ulafor, Mrs. Stella Odey, Engineer Francis Eraye, George Abang Kabu, Mr. Joe Abang and Mr. Asuquo Ekpenyong, the youngest nominee.
What raised a few eyebrows concerning Mr. Ekpenyong's nomination is his age and the fact that he is not a career politician. But for those close to the seat of power, the nomination of Mr. Ekpenyong did not come as a surprise because he was an integral part of Governor Ayade's campaign team.
Born on September 25th 1985, Asuquo Ekpenyong hails from Odukpani local government area in Cross River. He obtained his West African Examinations Council certificate from King's College, Lagos Nigeria and proceeded to study Economics at the University of Reading, United Kingdom (UK), where he graduated with a Bachelor's degree.
Following his first degree, Ekpenyong also pursued his Masters degree and was awarded a Msc. Distinction in International Banking and Financial Services by the University of Reading, UK. He attendedthe Key Executive Program at the Harvard Business School, Boston USA.
Mr. Ekpenyong has also attended several training programmes including the Global Executive Leadership Program at Howard University Business School, Washington D.C.; the Executive Management Development Program at the University of Pretoria, South Africa; the Euromoney Oil & Gas School London, etc. He is also a member of the Chartered Institute of Bankers of Nigeria (CIBN).
Ekpenyong brings a wealth of professional finance and managerial knowledge and experience to his role as commissioner. After a brief working stint in England, he returned to Nigeria to work as a Financial Analyst at Davandy Finance & Securities Limited, Lagos and then relocated to Cross River where he was appointed a lecturer in the Banking and Finance Department of the University of Calabar, Cross River State. As a young industrious entrepreneur, he established Iquasu Ventures Limited, a haulage and logistics company, in 2010; he later took over as Managing Director of Chamley Bureau de Change Limited.
Asuquo's expertise led to his appointment as Executive Director for finance at Pearland Energy, an indigenous Oil & Gas company, and Non-Executive Director at Ekondo Microfinance Bank Limited.
On the 27th of November, Asuquo Ekpenyong was sworn in as the commissioner for Finance in Cross River state and is now the youngest serving commissioner in the country. He will be bringing with him experience gained at home and abroad to contribute towards building the state to be a key player in this age of information technology and global financial market advancement. His accomplishments leave no room to doubt his eligibility and preparedness for the role. We can be certain that with appointments such as these, from a progressive governor like Ben Ayade, it definitely isn't "politics as usual" in Cross River state and the results will speak for themselves.

Load more