…sues for peace
Jethro Ibileke/Otuoke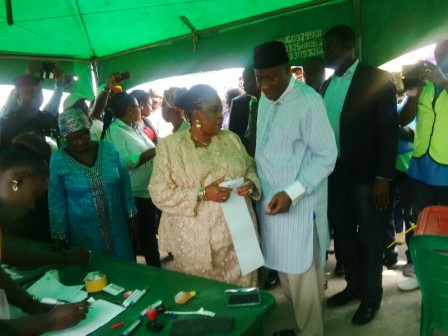 Former President Goodluck Jonathan has described the conduct of the Bayelsa state governorship election as sign of good things to come.
The former President who stepped out of his palatial and expansive country home in company of his wife, Patience and his mother, to the polling booth erected just opposite the main gate of his house, cast his vote at exactly 1:40 pm and was closely followed by Patience his wife and later, his mother.
The former President in a chat with journalists after casting his vote, described "a peaceful, credible and free election as the hallmark of democracy."
"I plead with my brothers and sisters in this state to take the election peaceful. For me, it is a great day. For us in the state. We have all voted.
"In every election, there must be a winner and there must be a looser. While the winner celebrates, the looser laments. But the winner must carry the looser along," he said.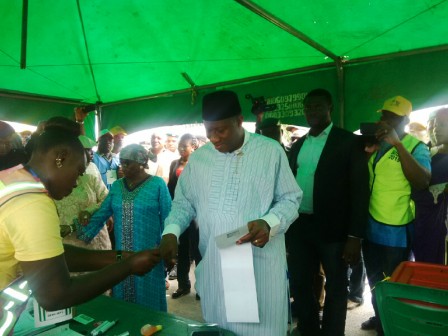 Apparently angered by the Card Reader that failed to recognize his fingerprint earlier in the morning, Jonathan lamented what he called "the high rate of card reader failure."
"This is a learning process. I believe before the next elections, things will improve. The idea of the card reader is okay, but it must be acceptable. The card reader is creating more problem than it solves.
He however appealed to all Bayelsans to take things. Calmly and vote peacefully to elect candidate of their choice to govern them.

Load more