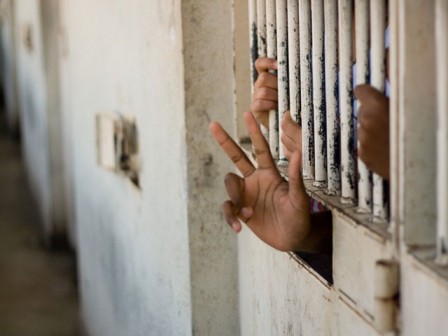 The Chief Judge of Nasarawa State, Justice Suleiman Dikko, has granted pardon to 18 inmates of federal prisons in Lafia, Keffi, and Nasarawa, awaiting trial in the state.
The chief judge made this known to newsmen on Saturday at the Keffi Prisons, Keffi Local Government Area of the state, at the end of his four-day tour of prison formations across the state.
Dikko said that five of the inmates were from the Lafia Prison while 12 were from the Keffi Prison.
The remaining one, he said, was from the Nasarawa Prison.
He gave the names of the inmates released from the Lafia Prison as Bulus Irimiya, Dauda Emmanuel, Mohammed Isa, Likita Emmanuel, and Beegah Luhu, with Emmanuel Nyitse released from the Nasarawa Prison.
According to him, those released from the Keffi Prison are: Abibakar Mohammed, Abubakar Ibrahim, Auwal Abdullahi, Abdurahamar Idris, Felix Michael, Danladi Joseph, Peter Ogun, Isha'u Barau, Isreal Stephen, Amos Isaac, Hassan Yakubu, and Aliyu Musa.
The chief judge stated that the routine prison visit is aimed at decongesting the prisons in the state and ensuring the delivery of justice to wrongly detained inmates.
He urged the police, prisons authorities, and other stakeholders to rise up to their responsibilities and partake in sanitising the judicial system towards ensuring the speedy administration of justice in the state.
Dikko also assigned counsels to the inmates awaiting trial and those, who had been remanded in custody for many years but lacked the money to engage the services of counsels.
He advised the pardoned inmates not to engage in acts that could make them return to prison.
Earlier, James Lander, Deputy Controller of Prisons in Charge of Keffi Prison, commended the chief judge for the visit.
James identified inadequate vehicles as one of the challenges confronting the Keffi Prison.
According to him, the prison, which is charged with the responsibility of conveying inmates to 47 courts in five local government areas and the FCT, had only one functional vehicle, which it uses to take inmates to all the courts daily.
He appealed to the state government to provide the prison with potable water and to rehabilitate the road leading to the prison adding that the road was in a very bad condition.
The News Agency of Nigeria (NAN) reports that officials of the National Human Right Commission, Legal Aid Council of Nigeria, private lawyers, and judges accompanied the chief judge on the visit.

Load more