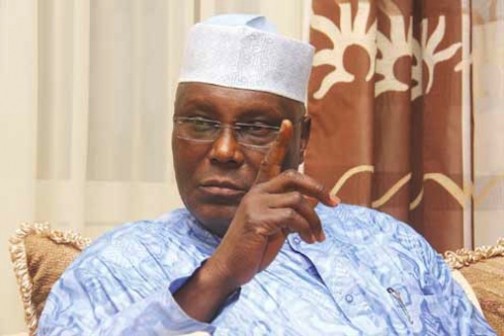 Former Vice-President Atiku Abubakar and chieftain of the All Progressives Congress (APC), on Sunday in Abuja, congratulated the people and government of Kogi on the election of Alhaji Yahaya Bello as Governor.
The state had been in a difficult situation since Nov. 22 when Prince Abubakar Audu, APC candidate, died and INEC declared the gubernatorial election inconclusive on the same day.
Audu's running mate, James Faleke, had headed to court over the same issue, insisting he should be declared governor-elect because Bello did not participate in the campaigns.
A statement by Atiku's Head of Media, Mr Paul Ibe, commended political and opinion leaders of the state and INEC for the successful conclusion of the supplementary election.
"The fact that the election resulted in a clear winner after all the doubts, tension, uncertainty, stresses and strains, is a testimony to the fact that the people of the state are resilient and peace-loving.
"It shows that when adhered to, the tenets of democracy tends to yield an outcome satisfying to the people.
"The outcome of the election, has to a significant extent, enriched the nation's democracy because it has shown that Nigerians can manage complex situations and yet make something out of it to the satisfaction of all concerned.''
The statement enjoined the governor-elect to carry everyone along as he sets out to organise his government for the good of the party and the people of the state at large.
It advised aggrieved parties to respect the memory of the late Audu "who was coasting to victory before his sudden death, by availing themselves of the known constitutional ways of seeking redress after an election.
"The peaceful and conclusive manner the polls ended shows indeed that the late Prince Abubakar Audu was beloved by his people and that they are determined to keep faith with his ideals.''
The statement commended the national leadership of the APC for its maturity and wisdom in directing affairs of the party in Kogi, saying its focused leadership yielded the victory.

Load more