Jethro Ibileke, Idowu Ogunleye/Yenagoa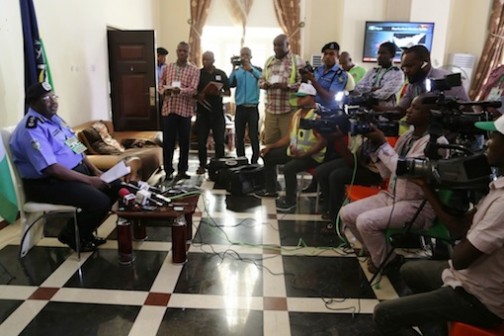 The Peoples Democratic Party (PDP), Bayelsa state, has expressed concern over the rescheduled election in the state.
The state Chairman of the party, Chief David Serena-Dokubo Spiff, who expressed his party's concern at a press briefing held at the State Government House in Yenagoa, alleged that the lives of members of his party in the affected areas and those of the ad hoc staff of INEC were not safe, given the current situation.
"The Peoples Democratic Party, (PDP), Bayelsa state, wishes to register its concern over the decision to conduct a fresh governorship election in Southern Ijaw Local Government Area.
"Our position is based on the fact that the issue of security of lives and electoral materials, which caused the shift of the exercise from yesterday (Saturday), have still not been adequately addressed.
Spiff alleged that the "orgy of violence perpetrated by APC thugs in the full glare of security agents resulted in the loss of five lives," adding that information at their disposal indicated that the majority of the indigenes of Oporoma, headquarters of Southern Ijaw Local Government Area and some other communities, are still taking refuge in the forest and swamps as a result of the heavy gunfire.
He further alleged that the security situation has been confirmed to be even worse in other communities in the area.
"The situation is still so tense, with gunshots heard in parts of Oporoma and other major communities in the local government area, making it clearly impossible for any peaceful election to hold.
"It is, therefore, our position that adequate arrangements be put in place within the next couple of days to ensure security of voters, INEC ad hoc staff, including Youth Corps members and materials. Because lives have already been lost, it is crucial to take steps to ensure that more lives are not lost."
The Bayelsa PDP chairman who alleged that his party is already "running away with unassailable victory" in seven of the eight local government areas where elections have been concluded, expressed the hope of his party that INEC, the security agencies and other stakeholders take "the genuine fear into consideration, so that the people of Southern Ijaw can exercise their civic responsibility.
"We want to condemn in serious terms, the violence inflicted on the people of Ekeremo, it is most unprecedented. Please, let the world know the circumstances under which election is being conducted here."
Mr. Spiff also alleged that information reaching him indicated that even while elections are being conducted in his community, the candidate of the APC, Timipre Sylva, "is currently in Abuja, consulting with senior government officials who instructed the INEC Resident Electoral Commissioner to relocate to the election zone," where he said accreditation of voters and voting are carried out simultaneously.
"We will not accept it, it is grossly against the regular norm. We are saying this emphatically for the purpose of the records. We will not accept any irregularity. Enough is enough," he said.

Load more