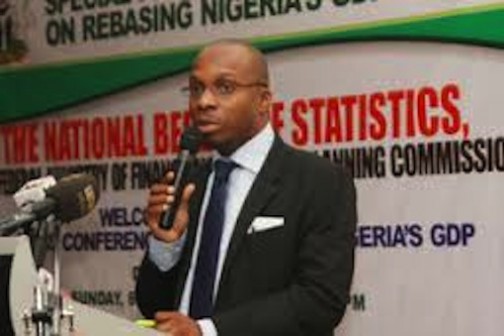 i kale
The Statistician-General of the Federation, Dr Yemi Kale, said the National Bureau of Statistics (NBS) was strategising to map out data to achieve the Sustainable Development Goals (SDGs).
Kale told the News Agency of Nigeria (NAN) in Saminaka, Kaduna State, that NBS needed adequate and timely release of funds to map out data to monitor progress in the goals.
He said that the monitoring of the Millennium Development Goals (MDGs) suffered due to lack of funding required getting the data, saying the fund was not available until six years later.
NAN reports that the 17 SDGs are expected to replace the eight MDGs by January 2016.
The 17 goals with 169 targets covering a broad range of sustainable development issues were adopted in September at the UN General Assembly in New York.
The statistician-general said the NBS got the baseline for the MDGs late, six year later and did not receive money again until two years to the end of the programme.
"We are appealing to the government that we do not want to make this same mistake of last time this time around.
"We have made our proposal and put it in 2016 budget; we want to make sure that before we start the SDGs, the baseline data is ready.
"You cannot track progress unless we know where we are coming from; before we start tracking, let us know the condition on ground first so that every year or two years, we will go and check again to ensure that the programmes are working.
"We need these funds upfront to get baseline indicators very urgently and to update them regularly to monitor progress.
"Once that is done, I can assure you that all data required to monitor the SDGs will be easy for everyone to see."
Kale, however, appreciated the technical support of the UN Development Programme (UNDP) to the NBS on data mapping for SDGs.
NAN gathered that NBS, with support from UNDP, had engaged the services of a consultant to carry out a comprehensive data mapping on SDGs.
Kale further said that it was clear that 98 per cent of the statistics system problem was funding, adding that you cannot monitor if you do not have any money.
"It is not that federal or state MDAs do not know their work; they are very experienced and they know what to do.
"We have demonstrated our skills in that when we get funding for any project, we do it well.
"For example, we have been funded for job creation survey; it comes out regularly every quarter as it supposed to be because the money for that came up.
"Whatever they give us money we meet our deadlines. Weather it is inflation, Gross Domestic Products, Job creation surveys but the problem, when there is no money, we cannot achieve much."
In addition, he said that NBS had just held a National Consultative Forum on Statistics to ensure coordination in the different parts of statistical system in the country.
Kale said that the objective of statistics were for planning, proper usage for evidence based policies and monitoring as well as evaluation.
"It is dangerous for people to put out different data so we have looked at different processes, methodologies, ideas and the new techniques for gathering data.
"We have also reviewed the last National Strategy for the Development of Statistics (NSDS) as well as given indications for the new ones to enhance credible and timely data," he said.

Load more