Taiwo Adelu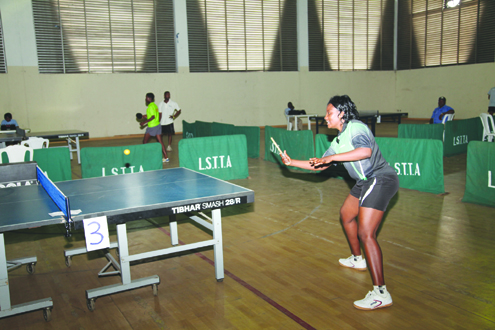 After eight months of competition among tennis players across the country, Tombim Tennis Club of Abuja have won the inaugural Nigerian Communications Commission (NCC) Tennis League.
The team that paraded players such as 2014 winner of the men's singles of Governor's Cup Lagos Tennis Championship, Moses Michael, runner up of that year's women's singles of the Governor's Cup, Sarah Adegoke, Henry Atseye, Mbanu Onyeka and Christy Mbadiwe, were adjudged the champions of the maiden Nigerian tennis tourney after they defeated Team Civil Defence of Ibadan in two-legged matches that ended 4-2 at the Lagos Lawn Tennis Club Onikan.
The team were given a golden trophy and a cash reward of N5 million, while the runners up, Team Civil Defence pocketed the sum of N3 million.
The Abuja team were not so lucky in the women's singles category as they lost to the ladies of Team NCDSC who won the two-legged finals 6-3.
One of the star players of Team Tombim, Mbanu Onyeka described the league as a good development for the players who have been yearning for more competition in the local scene. He said the month-long tennis league served as a good training platform for the Nigerian players to prepare hard for the 15th edition of the Governor's Cup Lagos Tennis Championship which gets underway at the Lagos Lawn Tennis Club Onikan.
President of Nigeria Tennis Federation (NTF), Engr. Sani Ndanusa, said the NTF is full of gratitude to the management of the NCC for sponsoring the competition.
He noted that the NTF will always be a good partner with NCC and other corporate organizations which have been sponsoring events of the federation.
Other teams that took part in the league included Team FCT, Abuja; Team Gun State; Team Delta, Asabi; Team Kalotari, Port Harcourt; Team Anambra, Onitsha; and CBN Features, Kaduna.

Load more