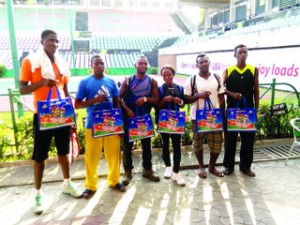 Nigerian players taking part in the 15th Governor's Cup Lagos Tennis Championship began their quest for honours with victories in the first round of the competition at Lagos Lawn Tennis Club, Onikan on Monday.
Wildcard player, Sylvester Emmanuel, received a standing ovation from fans when he stopped American Anderson Reed who is ranked number 1488 in the world in one of the matches played on Lord Rummens Centre Court. Emmanuel won the match 7-6(3), 6-3.
An elated Emmanuel said after the match that he was not surprised with the victory, adding that hardwork and experience he gained while travelling around the world to play in different circuits won the match for him.
"I feel great winning this match. I went into the match with a great confidence that I would win. This is because I played more ATP tournaments than Reed. He was a good player but I'm better than him," said Emmanuel, who in the past few months had played in ATP ranked competition in the USA, Togo and Benin Republic.
The Nigerian star, however, said that this year's Governor's Cup will be different for the local players as they are battle ready to give their foreign counterparts a good run for their money.
Other Nigerians who made a headway in the first round of the tournament include Mohhammed Mohammed who beat Ghana's Bernard Dugbah 4-6, 5-3, 5-3, and Albert Bisong Bikom defeated Swiss player, Jessy Kalambay 5-7, 6-4, 7-5, all in the men's singles.
Some Nigerian ladies won their respective matches of the first round, moving on to the second round. Ronke Akingbade beat compatriot Christie Nwankwo 4-6, 6-2, 6-1, while Blessing Samuel lost to Osariemen Airhumwunde 6-4, 6-2.
Mohammed Mohammed and Joseph Imeh beat the pairs of Alexei Filenkov of Russia and Aldin Setkic of Bosnia.
Some Nigerian players were however sent packing from round one. Aminat Quadri was no match for Tessah Andrianoafitrimo of France as she fell in straight set of 6-0, 6-0, while Kyra Shroff of India also beat Rita Obasigie 6-0, 6-0.
In other results, Tadeja Majeric of Slovakia beat Eden D'Oliveira of USA 6-3, 6-1. Ester Masuri of Israel defeated Olena Kyrpot of Ukraine 6-0, 6-3, German Andiyo Inwang who was given a wildcard was beaten by Mara Schmidt of USA in straight set of 6-1, 6-3. Zimbabwe's Valeria Bhumu beat Usina Sumail of India 6-1, 6-2, while Alexandria Riley of USA defeated Nina Kolar of Slovakia 5-3, 6-0 all in the women's singles
Other matches of round one will be concluded on Tuesday.
The first leg which began Monday will be rounded off on Saturday with a winner in the men's category smiling away with $15,000, while the women take home $25,000.

Load more