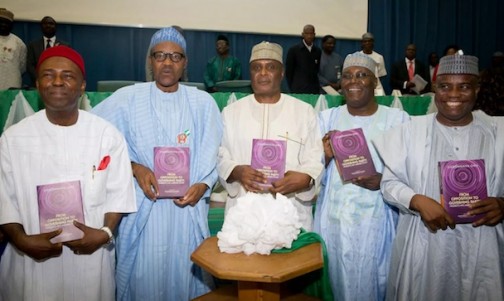 President Muhammadu Buhari has said that Nigerians must learn from the socio-political history of other countries and avoid repeating mistakes of the past.
The President stated this at the public presentation of a book, titled; "From Opposition to Governing Party", written by the Minister of Science and Technology, Dr Ogbonnaya Onu.
According to him, with books such as the one presented and those written by intellectual politicians, the future generation of Nigerians will be saved the time and torture of repeating the mistakes of previous generations.
"I would to thank Dr Ogbonnaya Onu, because what is missing is history.
"People must tell the history of our development politically, not only economically, because one significant thing, especially, about Nigeria is that we are inclined to refuse to learn from other peoples' mistakes.
"We insist on making our own mistakes all the time.
"But with books like this by Ogbonnaya Onu and intellectual politicians, our future generations will be saved the time and torture of going over the mistakes of the previous generations.
"For this, I thank him very much and I certainly wish to congratulate him.
"And he is not the Minister of Science and Technology for nothing. Having known him earlier on as a scientist, I think the biggest challenge is to give him the ministry and see how much of a scientist he remains."
President Buhari, who narrated his political history, including his subsequent victory in the 2015 Presidential Election, said that the coming together of opposition parties in 2014 helped save Nigeria from total collapse.
The Chairman of the event, former Vice-President Atiku Abubakar, described the book as a story of determination and sacrifice in the march towards a better Nigeria.
The Book Reviewer, Mr Ray Ekpo, a veteran journalist, said that the 452-page book with 26 chapters, aptly chronicled the circumstances that led in the merger of a political party.
He also narrated the challenges.
Speaking at the presentation, Onu said that the book would help other politicians to avoid the mistakes of their predecessors.

Load more