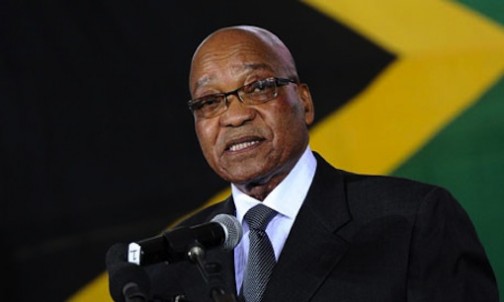 South Africa's investment credit rating under serious threat due to its inability to fund crucial infrastructure projects and help to put the economy on a more robust growth path.
Fitch downgraded the rating of South Africa's economy by one notch to BBB-, last Friday, the lowest investment grade category.
Fitch cited the slowing economy, which the government expects to grow just 1.5 per cent this year and rising debt for the downgrading.
Standard & Poor's kept its own rating at BBB- but lowered the outlook to negative from stable, saying it believed economic growth might be lower than expected.
South Africa still enjoys investment status from all three major agencies, including Moody's.
But in Friday's moves, particularly that by S&P, leaves Pretoria precariously close to stumbling into sub-investment territory, joining emerging market peers such as Brazil.
"S&P's move will undoubtedly add to already growing speculation that South Africa could be the next emerging market to enter the 'junk yard' in 2016,'' BNP Paribas Securities economist Jeffrey Schultz said.
Government bonds weakened on Monday, with yields hovering near highs last seen in February 2014.
The rand traded nearly 1 per cent weaker versus the dollar on the day, within striking distance of last week's record low of 14.4950.
South Africa's government took the negative reviews on the chin at the weekend, saying it would improve the running of state owned firms and reform the labour market.
The aim is to avoid protracted strikes and to invest in infrastructure to boost growth.
But it might struggle to do the latter, with revenue falling far short of budgetary requirements while already high debt levels preclude any significant increase in borrowing.
The government is constantly scratching its head over how to fund cash-strapped state entities like Eskom, national airliner SAA and the Post Office without worsening the budget deficit, currently running at nearly 4 per cent of GDP.
Fitch warned of further negative rating action if fiscal policy was loosened, leading to a failure to stabilise the ratio of government debt to GDP which is nearing 50 per cent.
On Saturday the Treasury noted that the government had stuck to its spending limits for the past three years and was on track to stay within the expenditure ceiling in 2015/16.
But critics say Finance Minister Nhlanhla Nene's efforts to kick-start the economy, including efforts to crack down on financial mismanagement at state firms, have received little real support from the rest of government.
"There is a growing consensus that a deep crisis would need to occur to shake the jaded government to life,'' NKC African Economics analyst Bart Stemmet said.
"Brave leadership is needed to drive the deep structural reforms needed to put the South African economy back on track, but one wonders whether the spectre of being rated 'junk' would be enough to spark such a drive.''

Load more