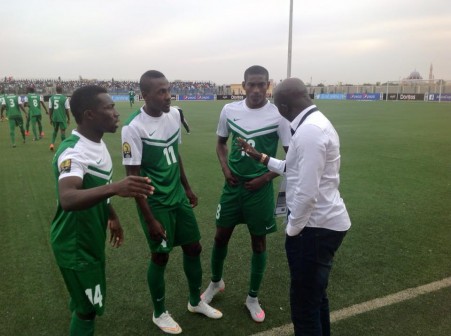 Taiwo Adelu
One of the players of Nigeria's Dream Team IV, Ogenekharo Etebor, has warned his teammates that the semi final clash against the hosts, Senegal in the ongoing U-23 Africa Cup of Nations will not be a child's play.
Etebor, who plays for Warri Wolves, insisted that if the Nigerian team would fly past the Senegalese team to the final of the championship, the team must raise their game.
Nigeria were held to a barren draw by Algeria in the last group match on Saturday, but had Mali to thank for beating Egypt 1-0.
This gave Samson Siasia a clean bill of health to be in a pole position with Algeria who were leading Group B.
Nigeria eventually qualified for the semi final stage with a tied five points with Algeria.
Etebor said that what happened during the group matches would be a lesson for the team, adding that all eyes will be on the team to secure the final ticket and qualify the country to the Rio 2016 Olympics.
"The match against Senegal won't be easy. We look forward to qualifying for the Olympics at all cosst, because this was our target when we were coming for this tournament.
"We know what Nigerians want, which is the Olympic ticket and we must get it here. Having reached this stage of the championship, there is nothing stopping us from picking an Olympic ticket and qualify for the final of the Nations Cup," he said.
Nigeria's U-23 Dream Team VI will battle Senegal on Wednesday at Stade Léopold Sédar Senghor, Dakar, while Algeria will battle South Africa in the second semi final game. The first three teams will win the tickets to represent Nigeria at the 2016 Olympics, while the fourth team will have to settle for the Olympic playoffs.

Load more