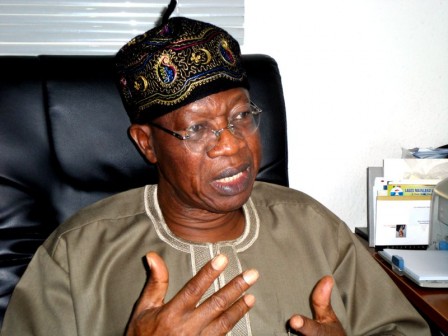 Alhaji Lai Mohammed, Minister of Information and Culture on Tuesday in Abuja urged Nigerians to promote the country's indigenous fashion and fabrics over imported ones.
Mohammed represented by the Permanent Secretary of the ministry, Mrs Ayotunde Adesugba made this call at "Dress Nigeria" Fashion Show and Exhibition organised by the Ministry of Information and Culture in collaboration with Legendary Gold Ltd.
He said that Nigerian fashion and mode of dressing had come a long way, which could be used to identify Nigerians anywhere in the world.
"If we all, especially fashion designers determine to give the best to our fashion industry, we will create wealth and more job opportunities.
"This sector is one that has the capacity to employ persons from diverse discipline like designers, models, fabric producers, dye and jewellery makers' marketers, among others.
"The aim of today's event is to further show that our fabrics and designers can compete favourably with others across the globe," he said.
Mohammed noted that the country was blessed with several indigenous fashions, ranging from fabrics, jewellery, beads, hair styles, body adornments and many more which need lots of touch in terms of refinement and upgrading to meet global trends.
He said, "the medium was to encourage the sceptics amongst us on the need to invest more in Nigerian indigenous products and fabrics.
"Charity begins at home" and if we want the international market to open up to our stakeholders in this area, we at home need to take the lead.
Ms Grace Gekpe, the Director, Entertainment and Creative Services of the Ministry noted that the event was a call for National awareness.
She said that in order to create awareness on "Dress Nigeria" they were embarking on sensitisation programme.
She said that the programme had been running for the past couple of years to properly sensitise Nigerians on the need to be proud of its indigenous culture.
Mr Lexy Mojo-Eyes, the Chief Executive Officer of Legendary Gold Ltd. said that the idea of the Dress Nigeria Project came up because of the need to reorienting Nigerians to look inward.
Mojo-Eyes said that the best way was to target the stakeholders in the industry to be able to compete globally.

Load more