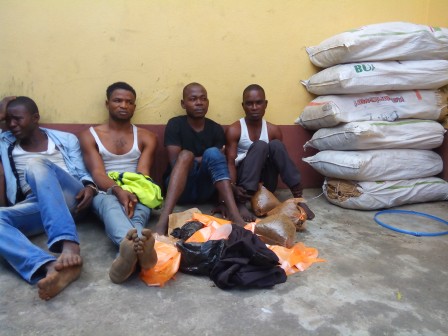 Kazeem Ugbodaga
As part of efforts to reduce crime rate in Lagos State, policemen attached to the Rapid Response Squad (RRS) of the State Police Command have arrested a gang of suspected narcotic specialists with 18 sacks full of marijuana.
The RRS officers were acting on a tip off from Governor Akinwunmi Ambode. The governor had through a memo, ordered the RRS boss to go afer the gang that had been terrorising residents of Oyingbo-Otto and its environs.
The RRS, during a raid of the area arrested four suspects, Quadri Jimoh, 23; Tajudeen Busari, 33; Ukowa Udomma, 34, and Yakubu Mudashiru, 30, while one man later identified as Olumide, aka 'Aroso,' the gang leader, escaped.
The suspects were brought to the RRS headquarters, Alausa, with two of them, Jimoh and Busari, insisting that they were victims of circumstances as they knew nothing about the marijuna found in the building.
Jimoh, who lives at 15, Atitebi Street, Oyingbo, said that he was on his way to buy medications for his pregnant wife when he was arrested.
"I am a bus conductor. My wife who is six-month pregnant called me to buy some prescribed medications for her. And on my way to the pharmacy, I saw people running helter-skelter and I also ran with them. But unfortunately for me, I was caught by the policemen," he said.
On his part, Busari, a native of Kwara State, said that he was just passing through the area when he was arrested.
"I was just a passer-by when I saw people running for their lives. And I also ran too before these policemen intercepted me," he said.
The other two suspects confessed to the police that they were not the actual dealers of the drug but that they only smoke the substance, while identifying Olumide, who is now at large, as dealer of the recovered marijuana.
"I went there to buy Indian hemp before I found myself inside the police net. As a fashion designer, I came to Lagos about two years ago to eke out a living," Uduma said.
Mudashiru, who said his house was gutted by fire some years ago, confessed that he is a regular visitor to the house where the drug was found.
"I have nowhere to stay after my house was razed down by fire. Since then I have been sleeping inside motor park in Oyingbo. Truly, I went there to smoke on the fateful day," he confessed.
The RRS Commander, Assistant Commissioner of Police, ACP Olatunji Disu, advised the public to always furnish the police with timely and effective information.
"With information from members of the public, the work of the policemen will be made easy. We cannot do it all alone as we rely much on the hints from the people," Disu appealed.
The suspects have been handed over to the National Drug Law Enforcement Agency (NDLEA) for further interrogation.

Load more