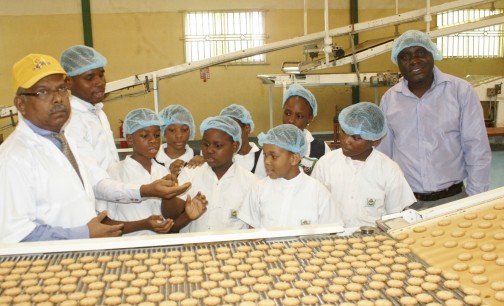 Daniels Ekugo
Sona Agro Allied Foods Industries Limited, maker of the Sona range of biscuits, wafers and cream crackers has announced the commencement of its excursion programme for primary school pupils across Lagos and Ogun States aimed at inspiring children to become manufacturing professionals and entrepreneurs in future.
Explaining the reason for the programme, Mr. Subramanian Murugesan, said, "Biscuits are every child favourite snack. In the course of production, we wondered how the kids will feel knowing the process and technology that goes into making biscuits. This led us to the excursion programme for primary school pupils which has been well received by our management."
Murugesan further stated: "In the economic realities of today, we believe that children should be exposed to as many disciplines as possible so that they can have an array of good choices to pick from in deciding their career path which is why we our throwing our gates open for them to come and see and be inspired.
"We have state-of-the art production machinery that will just might make some of the pupils decide on becoming engineers while the baking process may kindle the entrepreneurial spirits in some others. At the end of the excursion, all the children will definitely have a story to share."
Murugesan disclosed that the last Thursday of every month has been set aside for the excursion programme and advised both public and private schools that are interested in visiting to schedule with the marketing manager of Sona Biscuits on Ijoko Road, Ota, Ogun State.
Sona Agro Allied Foods Industries Limited is a subsidiary of Sona Group of Companies, a conglomerate with interest in diverse sectors of the Nigerian economy ranging from food and beverage to packaging, energy and real estate.

Load more