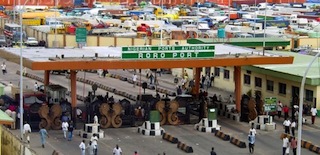 Thirty ships laden with various food items, containers, general cargoes and petroleum products are expected at the Lagos ports from December 9 to January 1, 2016, the Nigerian Ports Authority(NPA) said on Wednesday.
This was contained in the daily 'Shipping Position' by the NPA, made available to newsmen in Lagos.
According to the NPA, 14 of the expected ships will sail in with containers, while six others were expected to arrive with general cargoes.
It said that food items including frozen fish, bulk salt, buckwheat and bulk sugar would be brought in five ships.
The remaining five ships will arrive with petrol, kerosene and base oil, the NPA said.
NAN reports that six ships arrived at the port with petrol, diesel and rice in bags, waiting to berth.

Load more