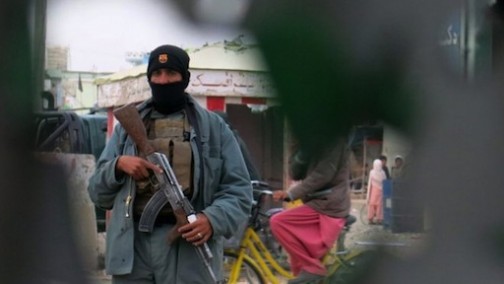 At least nine people have been killed in heavy fighting at the airport in the Afghan city of Kandahar, reports say.
The Taliban said it carried out the attack at the heavily fortified airport on Tuesday evening.
A spokesman for the provincial governor said the attackers had managed to breach the first gate of the complex in the southern city.
The airport compound houses the joint Nato and Afghan military headquarters.
"Several insurgents" had carried out the attack, the provincial governor's spokesman Samim Khopalwaq told AFP.
Officials said the attackers had met heavy resistance from troops inside, with local authorities reportedly deploying commandos to the area.
An unconfirmed statement by the Taliban claimed that they had killed up to 80 soldiers, though this figure could not verified.
Raziq Shirzai, the Afghan air force commander in the southern region, told the BBC that there were some civilians among the dead and
wounded. At least 20 people have been injured.
It was unclear early on Wednesday if the fighting had ended, and if any militants had been killed.
The militants had reportedly taken up positions inside a school in the complex.
One Afghan commander in Kandahar, Dawood Shah Wafadar, told the BBC that the militants had also entered a house where they were holding a family hostage.
Kandahar airport director Ahmadullah Faizi told AFP some passengers waiting to board a commercial flight to India had been trapped inside the airport's civilian terminal, at some distance from the fighting, during the attack.
The incident comes on the eve of Afghan President Ashraf Ghani's visit to Pakistan for a regional conference where they are expected to discuss peace talks with the Taliban.
Militant violence has increased across Afghanistan since the departure of most Nato and US forces last year.
In recent months the Taliban has seen a series of battlefield victories, including briefly capturing the northern Afghan city of Kunduz.

Load more