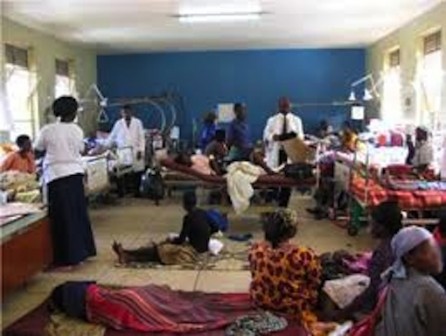 A Consultant Obstetrician and Gynaecologist, Dr Sylvanus Okogbenin, on Wednesday said Nigeria accounted for 10 per cent of global maternal deaths due to poor maternal health.
Okogbenin said this during a lecture entitled: "Male Role in the Prevention of Maternal Mortality'' at a two-day Scientific Conference in Irrua Specialist Hospital, Esan Central Local Government Area of Edo.
The conference, organised by the Medical Women Association of Nigeria (MWAN), had "Challenges of Womanhood: The Way Forward'' as its theme.
Okogbenin, who is the Chief Medical Director (CMD), Irrua Specialist Teaching Hospital (ISTH), said the lack of understanding of gender stereotypes and community-based practices were major limitations of interventions to halt trend of maternal mortality in Nigeria.
He said "most programmes designed to reduce maternal mortality in Nigeria exclude the male folks, and assumed that the women have the greatest stake and interest in protecting their own reproductive health.''
The gynaecologist explained that apart from encouraging women to visit the hospital and providing greater access to healthcare, there was the need to build the capacity of health workers to control the problem.
He blamed the high mortality rate in the country to poor access to health facilities, poverty, illiteracy and unwillingness of pregnant women to access healthcare services.
"The problem is high in Nigeria because, like many developing countries, there is still illiteracy and poverty where people are not informed about health issues and cannot afford healthcare," he said.
He regretted that "efforts and interventions to halt the trend of maternal mortality focused exclusively on female antenatal population.
"However, biomedical interventions without similar emphasis on socio-cultural factors and gender dynamics involved in maternal health will not achieve much.
"Reproduction is a dual commitment and with the prevailing gender inequality in many rural communities, men play important and often dominant roles in women's reproductive health.
"Women frequently cannot make decision on their own to use services that may be affordable and available to them because they have been sensitised to depend on their husbands.''
He urged government and stakeholders to redouble efforts to bring the problem under control.
He added that "government needs to muster the political will to stop the problem, while other stakeholders should also work harder to tame it.''
Earlier, the President of MWAN in Edo, Dr Amina Okhakhu, had said that the scientific conference was timely due to high rate of maternal mortality.
Okhakhu said that the programme would feature free medical services, as well as 'walk for life' to sensitise people on the need to enhance their health through regular exercises.
"This programme is all about sensitisation of adolescent on puberty, career guidance; talks with women groups to educate them about sex; screening for breast and cervical cancer, among others.''

Load more