Cyriacus Izuekwe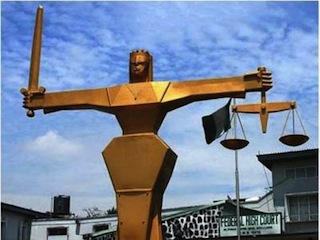 A police woman attached to human rights section of Idimu Divison, Chinyere Dike, has been attacked and brutally wounded after she went to arrest a male suspect in Lagos State, western Nigeria.
Dike suffered her fate after she went to 89, Okunola street in Egbeda to arrest a tenant, Sunny Ocha, over a case of alleged assault committed by his wife against their landlord and reported at the station.
Anambra State-born Ocha reportedly overpowered Dike and rained blows on her face and in the process injured her right eye.
P.M.NEWS gathered that Ocha's wife had disagreement with their landlord which prompted the landlord to go to the police and report the matter.
Dike was detailed to investigate and invite parties involved in the matter for possible settlement.
Dike reportedly went to the house to arrest Ocha's wife who reportedly got wind of her arrest and escaped.
When Dike did not see Ocha's wife, she decided to invite Ocha to the station but he refused.
Ocha reportedly told her that he was not the suspect and as such he had no business in the matter and besides his wife was not around and he was the one taking care of the three children in her absence.
However, Dike insisted that he must follow her to the station and attempted to enforce her directive but in the process, Ocha reportedly grabbed Dike and rained blows on her and she became unconscious.
After she rocevered, she and went back to the station and reported what happened.
She was referred to Igando General hospital for treatment and some officers in the station went and arrested Ocha.
Ocha was charged before a Magistrates' court in Ejigbo with assault under the Criminal Code and he pleaded not guilty.
The presiding Magistrate, Mrs J. O. E. Adeyemi granted him bail in the sum of N50,000 with two sureties in like sum.
Ocha was remanded in prison custody at Kirikiri pending when he will perfect his bail condition.
The matter was adjourned till 27 January, 2016.

Load more