Kazeem Ugbodaga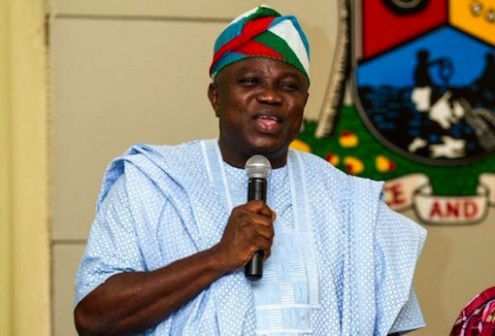 Lagos State Governor, Akinwunmi Ambode on Thursday inaugurated an Advisory Committe on Power to tackle power challenge in Lagos, with a charge on the committee to create an enabling environment to ensure 24-hour electricity supply in the state.
The committee is drawn from both the public and private sector and is to be chaired by the Deputy Governor of the State, Dr Oluranti Adebule.
Members of the Committee include the Commissioner for Energy and Mineral Resources; the Attorney General and Commissioner for Justice; Commissioner for Information and Strategy and representatives from the Ikeja Electricity Distribution Company, Eko Electricity Distribution Company, Transmission Company of Nigeria, Gaslink Nigeria Limited, Falcon Corporation Limited, Egbin Power, among others.
The governor also informed that he has set up the Adopt a Street Light Initiative that would enable individuals and corporate bodies to adopt streets of their choice and light them up.
Inaugurating the committee at the State House, Ikeja, Lagos, Southwest Nigeria, Ambode said the terms of reference of the committee included creating an enabling environment to ensure 24-hour power supply in Lagos State and to guide in the development of a roadmap for reliable power supply in Lagos.
He added that the committee is to foster collaboration and develop a congress/platform for all major power stakeholders in the state and the private sector.
"The ultimate goal is to make electricity available to Lagosians for both business and domestic use and this committee will be instrumental in the speedy realization of this objective.
I have no doubt that given your experience, expertise and understanding of issues to be addressed, I can confidently look forward to receiving from you, well thought out and far-reaching recommendations that will Light Up Lagos continually," he said.
The governor said it is common knowledge that power supply is a major challenge that must be addressed in order to achieve sustainable economic growth and development in Nigeria, and Lagos State in particular.
"A mere 10% improvement in power supply will directly increase the GDP of Lagos State by 20%. No state in the Federation is more affected by the state of the power sector than Lagos. The reason is simple: Lagos State accounts for over 60% of the industrial and commercial activities in Nigeria.
"The energy requirement for Lagos State is estimated at about 5,000 Mega Watts of which only about 1,000 Mega Watts is supplied. Our greatest impediments today are the low or non-investment in transmission capacity and high loss rate between generation and distribution," he stated.
Ambode said in view of the importance of power supply to the Lagos economy, and the concerns that have been expressed particularly by the business community, this administration has considered it expedient to constitute an advisory Committee on Power, saying that the committee consisted of representatives of the State Government and industry experts from the Private Sector.
The governor stated that his administration had through its Light Up Lagos initiative lighted up major roads in the state.
The governor used the occassion to announce a new initiative; "Light Up a Street Iniitiative".
"We have decided to encourage individuals, private homes and corporate organisations to take up streets/roads of their choices and light them up (Street Lights) with connections to their meters or generators.
"In return, government will make concessions to these individuals and corporate organisations in the payment of their annual Land Use Charges. In addition, they shall receive Special Commendation letters from the Governor. Such projects will also be commissioned by government officials and Community Development Associations.
"We believe that this initiative will promote a new culture of co-operation and ownership. The Ministry of Energy and Mineral Resources is hereby directed to further publicise and promote this initiative," he said.

Load more