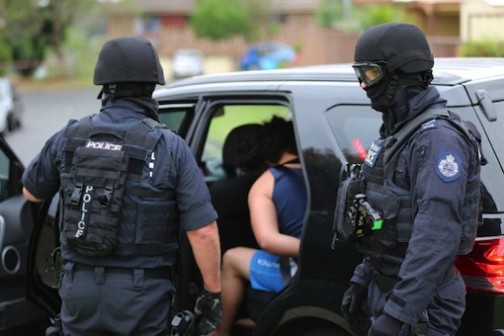 Two people, including a 15-year-old boy, were arrested on Thursday in Sydney over a terror plot targeting a government building, with authorities expressing alarm at the age of those being radicalised.
The teenager and 20-year-old man were seized at their homes and charged with one count each of conspiracy to conduct an act in preparation for a terrorist act.
Three others currently in jail were also expected to be charged with the same offence, police said.
The arrests stem from evidence gathered during pre-dawn raids in Australia late last year in which 15 people were taken into custody and an alleged plan to kidnap and behead a member of the public was uncovered.
Australian Federal Police's Deputy Commissioner for National Security Michael Phelan said the plot linked to Thursday's arrests was not new, but related to last year's operation where material about targeting a government building was first discovered.
"Last December, there were a number of documents seized as related to the search warrants we undertook in Sydney and those documents clearly talked about a plan and there was government buildings named in those plans," he said, adding that one of them was the Australian Federal Police offices.
"As a result of putting all of that information together, working through those documents, putting physical and electronic surveillance together, we were able to build a case of conspiracy for five people involved in the preparation of these documents."
Asked how far along the plot was, Phelan replied: "Enough for us to disrupt it at the time in December."
The arrests were part of Operation Appleby, a rolling investigation into persons suspected of being involved in domestic acts of terrorism, foreign incursions into Syria and Iraq and the funding of terrorist organisations.
– Disturbing –
Canberra is concerned about the prospect of lone-wolf attacks by individuals inspired by organisations such as the Islamic State group, and has cracked down on Australians attempting to travel to conflict zones including Syria and Iraq.
The country lifted its terror threat alert to high over a year ago, introduced new national security laws and has conducted several counter-terrorism raids since.
The most recent were in October when four people were arrested in Sydney over the terror-linked murder of police employee Curtis Cheng.
The person blamed for that killing, Farhad Jabar, was also only 15, and police subsequently said they were aware of 12 men or boys in the community who they believe could commit an act of terror.
Authorities said those charged Thursday were "associates" of the men accused of involvement in the Cheng murder.
Phelan added that while those detained were likely influenced by jihadists overseas, police were not alleging they were working to orders from Islamic State.
"It's disturbing that we're continuing to see teenage children in this environment," New South Wales state Deputy Police Commissioner Catherine Burn said.
"There's absolutely no doubt that the fact that we're charging a 15-year-old with a very, very serious offence, one that has a maximum of life imprisonment, this is concerning not only to us in law enforcement but should be concerning to everybody.
"How they've become radicalised we don't actually know. We don't know how the 15-year-old has got to the point where we will allege he got," she added.
Six attacks in Australia have been foiled over the past year, according to the government, but several have not.
The latest arrests come just days ahead of a memorial to mark the one-year anniversary of Iranian-born self-styled cleric Man Haron Monis taking hostages in a 17-hour cafe siege in Sydney that shocked Australia.
Monis and two hostages were killed when police stormed the premises.

Load more