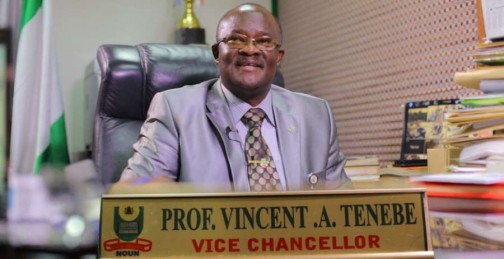 Prof. Vincent Tenebe, the Vice-Chancellor, National Open University of Nigeria (NOUN), on Thursday said the institution would continue to maintain its lead-position in mass literacy education.
This was contained in a statement signed by Dr Ronke Ogunmakin, the Director, Media and Information, in Lagos and made available to newsmen.
According to him, NOUN has achieved positive results over the years regarding its efforts in making education accessible to all Nigerians, irrespective of their ages, tribes and circumstances.
"This development has earned the institution the reputation of being the Most Outstanding Public Institution in Nigeria in the Year 2014/2015, out of 14 other public institutions monitored by an independent group.
"Other categories of award carted away by the university include: Service Delivery Award and Certificate of Performance for Effective and Efficient Service Delivery in the deployment of ICT as voted by Nigerians," he said.
Tenebe said that the recognition came from the Independent Service Delivery Monitoring Group (ISDMG), a consortium of several civil society organisations, with a large repertoire of media partners.
He said the award was soul-lifting and it could not have come at a better time than now, in view of the giant strides being made by the institution.
The vice-chancellor expressed delight at the transparent and unbiased manner the process leading to the award was conducted.
Tenebe said that the university management would continue to champion the course of Open and Distance Learning in the country and indeed the entire West African sub-region.
"NOUN's emergence as the Most Outstanding Public Institution in Nigeria, according to the 2015 service delivery report, was based on the composite review of the operational highlights.
"Strategic imperatives of transparency and accountability, factual information on performance, innovation, quality of service delivery and citizens' satisfaction were also a big consideration," he said.

Load more