Kola Johnson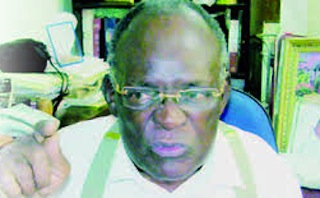 President of the Eclectic Network, Rev.(Dr.) Moses Iloh has urged members of the
socio-political pressure group to support President Muhammadu Buhari in his
current reformation drive to sanitize the nation an lift it to greater heights.
Noting that Buhari inherited a burden of an almost insuperable dimension arising
from the crass misgovernance by previous administrations, the celebrated social
critic and reformer urged that "we must not join the evil distractive bandwagon of
negative and destructive critics, who take delight in criticizing every move or
decision of Mr. President and his team.
"Their whole aim is to cause distraction and divert Mr. President's attention from urgent sensitive and significantly vital roles he has set for himself, for the overall benefit of the nation."
The General Overseer Soul Winning Chapel, stated this in his address titled 'Understanding
Contemporary Nigeria', delivered by him at the national conference of the Eclectic
Network.
He emphasized the need for the network to encourage the president through useful
suggestions that will speed up the avowed change from impunity, fraud, brazen,
impudence and corruption, to a culture of honesty, humility, transparency and
integrity.
"Our role is to stay in fervent prayers for his government, get into politics
and be that needed salt as a beacon of inspiration and light to shine before the
larger society.
"The trumpeted change should start from us as individuals. Let us see what
requires change and how we can through personal commitment start the change
process for others to follow," Iloh said.
Recalling President Buhari's call on the universities to function as an agent of
change, Iloh charged that such change should usher a departure from fraudulent
activities, falsification, prostitution and cultism among several other vices
corrupting the youth – for positive reorientation that would prepare them for
responsible leadership and citizenship in the future life of the nation.
"The Eclectic Network as a matter of urgency should also devise programmes and
activities that would promote friendship among Christians, non-Christians, people
of different tribes, the young and old, the rich and the poor in order to forge a
united front towards the development of the nation.

Load more