Cyriacus Izuekwe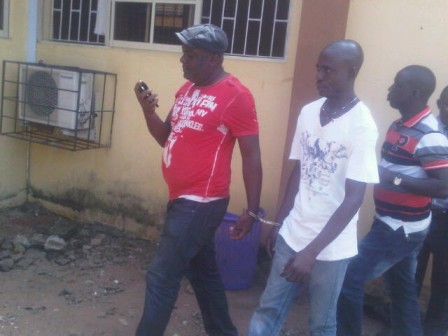 A man, Emmanuel Akachukwu, who went abroad for greener pasture and entrusted his property to his trusted friends, has allegedly been defrauded by the friends in Lagos State, western Nigeria.
The friends, Paul Okoye, 47, and Okeke Nnanwanya, 42, have been arrested and charged before Isolo Magistrates' court with fraud and stealing under the Criminal Code.
The alleged fraud took place at 32, Abayomi street, Itire, Lagos where they met and lived before Akachukwu travelled abroad.
Enugu state-born Akachukwu, while travelling abroad in 1997, entrusted his landed property located at Itire to the suspects to look after. And while he was in abroad, he also sent to them $4,000 to develop the property.
P.M.NEWS gathered that they made him to believe that all was well and the property had been developed.
Akachukwu who spent several years in abroad recently returned to Nigeria and was confronted by a big shocker.
According to him, the landed property had been sold while the money he sent to them to develop the property was allegedly shared between the suspects.
When Akachukwu went to the place where the property was located, he discovered it was developed by another person.
When he confronted his friends and demanded for his property, they told him that they were facing challenges when he was not around and sold the property and shared the money including the dollars he sent to them.
They told him they did not want to inform him about what happened on phone but decided to wait until he returned before they could explain to him.
Shocked by their action, Akachukwu went to Itire police station and reported what happened.
Paul Okoye and Okeke Nnanwanya were arrested and taken to the station where they reportedly confessed and promised to refund the money.
When they failed to refund the money, they were charged to court for the alleged offence.
They pleaded not guilty.
The presiding Magistrate, Mrs Joy Ugbomoiko granted them bail in the sum of N1 million each with two sureties in like sum who must show evidence of tax payment for three years.
The court also ordered that the sureties must deposit N100,000 in the chief registrar's bank account until the matter was dispensed of.
Okoye and Nnanwanya were remanded in prison custody pending when they will perfect their bail.
The matter was adjourned till 25 January, 2016.

Load more