Taiwo Adelu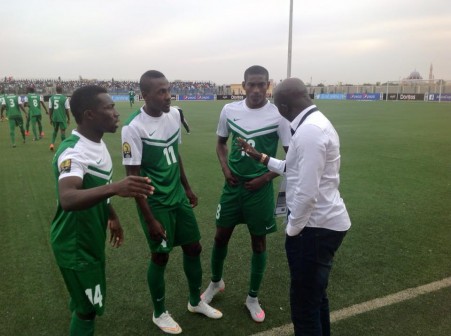 Nigeria's U-23 Dream Team VI and Algeria go head to head Saturday night to decide the new African U-23 champions in a final match set for Stade Leopold Sedar Senghor in Dakar, Senegal.
The Dream Team and the Les Fennecs have already secured two of the African tickets for the football event of Rio 2016 Olympic Games courtesy of their victories in the semi final matches against Senegal and South Africa respectively.
The two teams will lock horns Saturday night not only to win the trophy at stake but to also show who holds the ace when it comes to U-23 football on the African continent.
There is no doubt that the Dream Team and the Les Fennecs are familiar foes. They know each other very well, having come from the same Group B in the beginning of the championship. The final match will then be a repeat of the group' last match which ended in a barren draw.
It will be a different ball game this time around as all eyes will be on them to determine who will be crowned the African champions.
WHAT THEY SAID IN NIGERIA'S CAMP
Coach Samson Siasia:
"I expect Victor Osimhen to play a part in the match against Algeria, but he will be coming from the bench. There was too much noise over the unpaid bonuses and allowances of the players, but I want to assure that the team have resolved to put this issue aside for now, instead there will be high concentration on the task at hand, that is our match against the Algerians.
"In the beginning the journey was for us to qualify for the football event of the Rio 2016 Olympic Games, and having accomplished this, we are now faced with the task of winning the tournament, which we will surely do Saturday night.
"We have worked hard to get to this level, we'll not look back because we are playing for the country and the Nigerian people."
Captain Azubuike Okechukwu of Yeni Mataylspor, Turkey:
"I'm happy to be back after missing the semi-final match against the Senegalese. We are not under pressure to win this match because we have all what it takes to win the cup. The team have resolved to give our best. The U-17 Golden Eaglets did it in Chile winning the world championship, we too are ready to win the African cup for the country.
"The spirit in camp is very high, but I thank God that we are in Olympics already."
Goalkeeper Yusuf Mohammed Bala of Kano Pillars:
"I want to assure Nigerians that we are equal to the task. The assurance is that we will win the trophy. We will be champions and we won't let Nigerians down."
Midfielder Usman Mohammed of FC TARABA:
"Having gone this far in the U-23 Africa Cup of Nations, we will do our best to bring the trophy back home."
Striker Victor Osimhen:
"I'm so much excited to be part of the Dream Team and I have the coach to thank greatly for this opportunity. I want to thank Coach Siasia for giving me the chance and for the confidence he reposed in me. It is my belief that we will win the cup and it will be to my joy to score in this final match. I must confess if I score, I will be overwhelmed with joy."
ROAD TO FINAL
Nigeria
Group stage
Mali 2 Nigeria 3
Nigeria 2 Egypt 2
Algeria 0 Nigeria 0
Semifinal
Nigeria 1 Senegal 0
Algeria
Egypt 1 Algeria 1
Algeria 2 Mali 0
Nigeria 0 Algeria 0
Semifinal
Algeria 2 South Africa 0

Load more