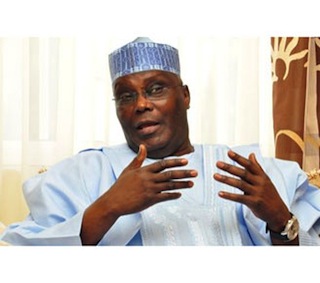 Former Vice President of Nigeria and chieftain of All Progressives Congress (APC), Atiku Abubakar, has congratulated HRH Omoba Ikenwoli Godfrey Emiko on his coronation Saturday, 12 December, 2015 as the 20th Olu of Warri.
Atiku in a statement released by his Media Office in Abuja over the weekend said the choice of Omoba Emiko to ascend the throne as the 20th Olu of Warri, venerates the totemic deep wisdom, courage and resourcefulness which the Oluship throne is widely acknowledged for.
According to Atiku, "The story surrounding the ascension of Omoba Ikenwoli Godfrey Emiko to the throne of his forefathers as the 20th Olu of Warri Kingdom is as interesting as it is instructive," stressing that "the narrative is a lesson on the virtue of patience, for not only his Itsekiri people, but for every human."
"Sixty years before his selection as the 20th Olu of Warri and head of the Itsekiri nation, his birth had made him a front runner for the position. His father named him Abiloye (born while on the throne) because he was the first son to be born after Erejuwa II's enthronement.
"He also called him Ikenwoli (the king has come) because he thought he was naturally designated to succeed him as king but he was not to be at the death of his father in 1987.
"Being the first male child born to his father, the then Olu Erejuwa II, many thought he was a natural choice, but the Itsekiri have their ways of choosing their monarch.
"However, when he was overlooked in the selection process in 1987 leading to the crowning of his older brother, Prince Godwin Toritseju Emiko as the Ogiame Atuwatse II, Ikenwoli accepted the choice of his people as his fate.
"Today, the dream that seemed aborted in May 1987 has come true. The man who has had to wait 28 years to fulfil destiny will be crowned, breaking a 200-year-old father-to-son Itsekiri succession tradition. It is in the story of people like the new Itsekiri monarch that the novel saying 'delay is not denial' has found real life expression. He could have lived his life into ripe old age and not be the Olu, which his father and his destiny, had purposed him for. The circumstances surrounding his eventual ascension may make the topics of destiny and supernatural predestination more interesting to study."
Atiku urged the new Olu to dedicate himself to building on and surpassing the worthy legacies of his much-acclaimed predecessor, Ogiame Atuwatse II, by committing himself to carrying his subjects along to a new era of peace, stability and progress in Itsekiriland, Delta state and Nigeria as a whole.
He urged him to work with the government and other traditional rulers across the country to foster harmony and socio-economic development across the country.
He wished the new Olu "long life and successful reign" in the service of his people and the country.

Load more