Eromosele Ebhomele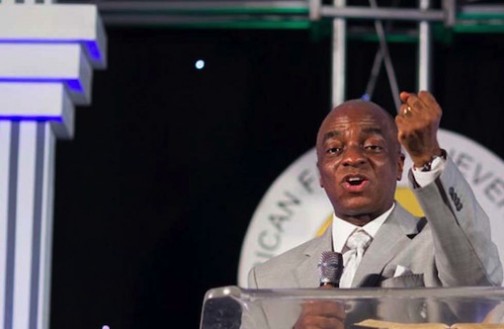 Bishop David Oyedepo of the Living Faith Church, better known as Winners Chapel, on Sunday placed a curse on fraudsters who have been ripping church members and its followers.
Oyedepo's anger on the alleged fraudsters comes a day after the closure of Shiloh, a popular annual programme of the church held at the church's headquarters in Ota, Ogun State, Nigeria.
The founder of the church had, on Saturday, told an excited crowd drawn from all parts of Nigeria and the world, that the church was commencing the construction of a Shiloh city, to occupy 1,000 acres of land.
An ultra-modern complex to be called Faith Theatre in in Ota, Ogun State, would have a 100,000 seat capacity and further have a section to occupy 10,000 children.
Apart from this, the complex is to accommodate offices, a shopping mall and a rotating alter as well as outlets for various other services.
He then announced that all 'Shiloh sacrifices' from church members would be channelled to the project.
As a result, channels were created for members, who could not make a Shiloh sacrifice to do that subsequently.
However, barely 24 hours after the announcement, some alleged fraudsters opened a website where they urged church members and other contributors to donate to the project.
Though the Bishop did not disclose the address of the website, he warned members of the church, during the Sunday service dedicated to thank God for a successful Shiloh programme, that they should beware of such fraudsters.
"They opened a website from where they collect Shiloh sacrifices. It was tried and it went through," he said to a bewildered church audience.
He also asked the members to circulate the information to those who had not heard, adding that, only messages announced in the church should be taken by members.
"Anyone involved in it comes under judgement. Anyone involved in it will not be released from the curse.
"The judgement of God is released on the health of anyone involved," he cursed.
The Bishop, while thanking God for the 2015 edition of Shiloh, disclosed that the church witnessed the largest instant healing during the programme.
P.M. NEWS and TheNEWS had published on 13 September this year that fraudsters had cloned the Bishop on social media especially Facebook with over 300 accounts and while opening several other accounts of his church with different photographs portraying him as the owner of the accounts.
Some of the accounts also carried photographs of him and his wife as well as some prayers and messages.
The two media also reported that many Nigerians and institutions have been battling with fraudsters on social media over time. Those who have had reasons to cry out include former President Olusegun Obasanjo, former Governor Babatunde Fashola of Lagos, Prophet T.B. Joshua of the Synagogue Church of All Nations, the Nigeria Police Force and the Nigeria Custom Service.

Load more