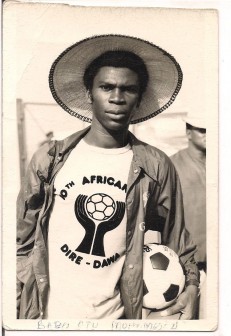 Former Green Eagles star player, Baba Otu Mohammed has been appointed the new General Manager of the Mighty Jets Football Club of Jos, one of the oldest and famous clubs to have come from the northern part of Nigeria.
His appointment followed the dissolution of the former board of the club under the chairmanship of Mr. Godfrey Hamza, who was accused of financial impropriety.
The new management committee of the club under the chairmanship of Barrister Timothy Buba, a former chairman of Jos North Local Government, has called on the Nigeria Football Federation, NFF, to accord the new board the recognition needed to perform its functions as one of the leading and oldest clubs in the country.
Mighty Jets became the first club to win the National League in 1972 despite numerous failed attempts to win the F.A. Cup in the 50s and 60s.
Formerly known as Plateau Highlanders, the triumvirate of Sam Garba, Sule Kekere, Layiwola Olagbemiro and Gabriel Babalola and later Ismail Mabo changed the name to Mighty Jets as founding members in 1968.
Meanwhile, the new General Manager of the club, Baba Otu Mohammed, has told reporters in Lagos that he would reposition the club and bring it back to its glorious days.
The Ghanaian-born Nigerian soccer star, who shot into the limelight during his stint with the fabulous Kumasi Asante Kotoko Sporting Club in 1970-71 football season in Ghana, was a member of the Green Eagles 1976 Africa Cup of Nations squad to Ethiopia where he was voted 'Africa's Best outside right'.
Baba Otu Mohammed was honoured by the NFF as one of the 12 Nigerians bestowed with the Legends of Federation Cup awards in the final of 2015 edition of the national competition hosted in Lagos at the Teslim Balogun Stadium, Surulere, Lagos on 22 November.

Load more