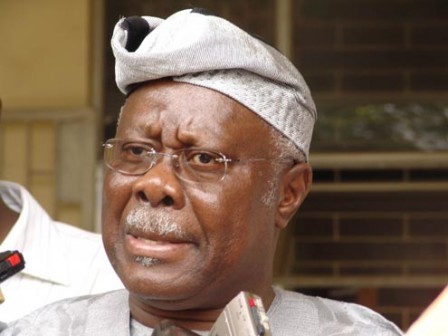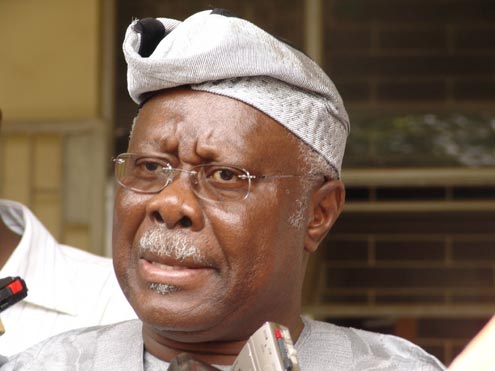 Chief Olabode George, a chieftain of the Peoples Democratic Party in Lagos State has debunked reports that he collected N100million from Bashir Yuguda, a former minister of state for finance, now entangled in a probe of slush funds emanating from the office of the former National Security adviser, Sambo Dasuki.
George, who seems to have issues with the media called journalists, 'rascally scribblers ' and 'lynch mob' in his press statement:
"My attention has been drawn to another mischievous and deliberately fraudulent claim that I collected N100 million from Bashir Yuguda, the former Minister of State for Finance. This is another blatant falsehood, stripped of any iota of truth.
"This is yet again a depraved continuation of lynch mob journalism orchestrated by an online newspaper."
"The salient fact is that very early this year, long before the election period, the party set up Contact and Mobilization Committee for each zone to reconcile various factions and ensure a firm unity of purpose within the zones before the election. I was elected as the Chairman for the South-West zone.
"The committee which was made up of 18 senior members of the party with distinguished history of honour and exemplary leadership, met at least 10 times in my office in Lagos. These people travelled all the way from every corner of the South-West, with three members representing each state. All of them are very much alive to testify to my assertions. Sometimes in the middle of these deliberations, Yuguda came to me and said the party was reimbursing the 18 elders of the committee for their transportation, accommodation and feeding allowance for the work that was done.
"The committee later submitted the report of its deliberations to the party and then wound up. For all these efforts Yuguda gave the committee only $30,000.
"That was less than N6 million at that time. Yuguda can never claim that he gave the Committee N100 million. That is the figment of the imagination of rascally scribblers purporting to be journalists. Again, facts are sacred."
Analysts said the Chief George is still holding the media responsible for his spell in Kirikiri Maximum Prison over his stewardship as chairman of the Nigerian Ports Authority.
He had since gotten a Supreme Court annulment of his conviction.

Load more