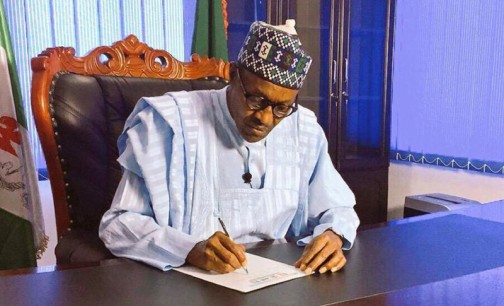 President Muhammadu Buhari said on Monday that the Federal Government would introduce more policies to further ease the process of doing business in Nigeria.
Buhari said in Abuja after a presentation at the Presidential Villa, Abuja, on enhancing Nigeria's trade and economic competitiveness.
The presentation was made by a representative of a foreign company, Mr Lim Chee Boon.
The President said that the new policies would focus on increasing efficiency and transparency in government operations and blocking leakages from revenue generating agencies.
He said that his administration was fully committed to closing all the loopholes in the revenue generating agencies, increasing their efficiency in trade facilitation and ensuring transparency in all government businesses.
According to him, this is meant to attract greater foreign direct investments into the country.
The President added that the Nigeria Customs Service, as well as the Ministries of Finance, Trade and Investment and other relevant agencies would be encouraged to adopt some of the positive ideas contained in the presentation for implementation in 2016.
Earlier, Lim Chee Boon, had told the President that virtually all the countries that implemented the company's solutions had successfully reduced corruption in their import and export processes.

Load more