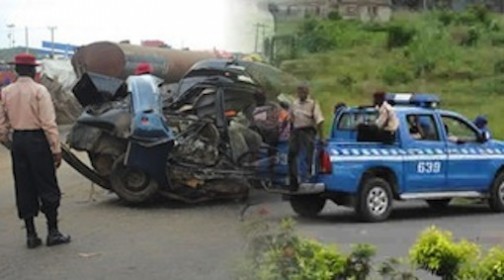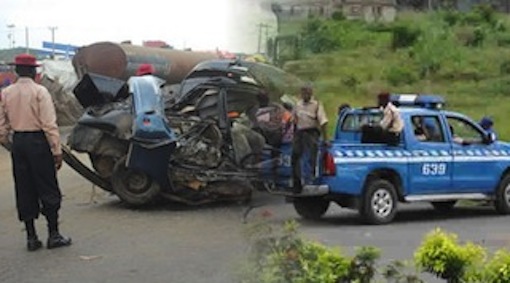 The Federal Road Safety Corps (FRSC) in Ota, Ogun, said on Monday that a tanker fully-loaded with Premium Motor Spirit (Petrol) fell on its side following a mishap at the Owode Bus/Stop, Owode/Ijako Junction, in Ogun, on Sunday.
The Unit Commander of the FRSC in Sango-Ota, Mr Leye Adegboyega, told NAN in Ota that the accident occurred around 3:45 p.m. due to brake failure, causing the tanker to spill some of its contents.
According to him, a Mack petrol tanker with registration number MUS 422 XH was heading from Lagos to Abeokuta and lost control due to brake failure, spilling some of its contents on the road.
Adegboyega said that FRSC officials, the Nigeria Police personnel and officials of the Nigerian Security and Civil Defence Corps, as well as those of the Ogun State Traffic Enforcement & Compliance Agency (TRACE), were all on ground to secure the area and ensure the prompt removal of the tanker.
"The intervention of these Agencies assisted in bringing the situation under control, as no live was lost in the incident.
Adegboyega said the driver of the tanker absconded, while no causality was recorded because of the timely collaboration of the Agencies concerned in bringing the situation under control.
The FRSC boss said both sides of the old Lagos/Abeokuta road were blocked, while other articulated vehicles and motorcyclists were prevented from passing through the area.
Adegboyega also said that there was restriction in the movement of pedestrians, adding that only those that switched off their mobile phones were allowed to go through the area.
He said that as at 11.45 p.m., the contents of the fallen tanker were still being transloaded into another tanker because the pumping machine was slow, while motorists were diverted to alternative routes, to reduce the gridlock.
NAN recalls that a tanker driver died, while six persons sustained various degrees of injury in a similar accident which occurred at the same junction on October 19.

Load more