Jethro Ibileke/Benin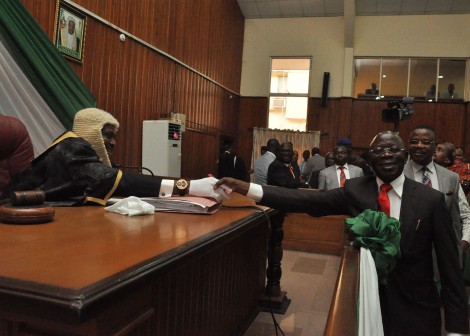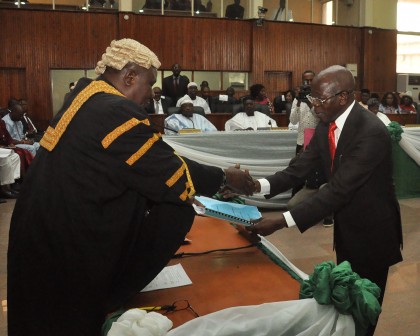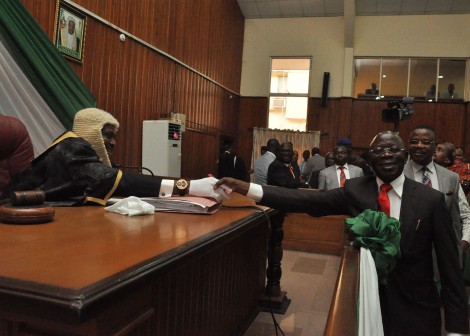 Edo state governor, Adams Oshiomhole on Monday presented the state's 2016 budget of N111.5 billion to the state House of Assembly for consideration and approval.
Tagged "Budget of Finishing Well", the 2016 budget is 12.6 percent lower than the 2015 budget which was revised downward to N127.01 billion.
Oshiomhole, while presenting the budget, said the "reduction is in line with current economic realities, especially developments in the international oil market and the dwindling inflows from the Federation Account."
He said the policy focus of the Year 2016 Budget is the completion or near completion of on-going road construction/rehabilitation projects across the state, noting that roads at various stages of completion will be accorded priority.
Capital expenditure will take N58.9 billion representing 52.84% of the total budget, while the proposed recurrent expenditure is N52.6 billion representing 47.16% of the budget.
A breakdown of the budget shows that Education and Health sub-sectors take the lion share of the budget with N14 billion each followed by roads infrastructure at N9.24 billion and flood and erosion control at N8 billion.
The Governor assured people of the state that "in 2016 fiscal year, efforts would be geared towards substantial completion of all the outstanding Storm Water projects across the state, the completion of the Auchi, Queen Ede and Ekekhuan Gully Erosion remediation projects, substantial completion of all current streetlight projects and institutionalization of the process of maintenance of all built infrastructure, streetlights, drains etc.
"This administration is currently working on the designs for the following seven gully erosion sites approved: Ibore, Ewu, Emu, Ogiso/Osunde, Ambrose Alli University (AAU), and Auchi/Agenebode Road gully erosion sites.
"The designs of Flood and Erosion Control Structures for Gapiona/Adesuwa Grammar School road to de-flood the Western part of the Benin City GRA, covering about 9 square kilometres is at advanced stage. Also designs for Urora Community in Benin City and Igbe Quarters in Auchi are being carried out."
On funding for the budget, Governor Oshiomhole said: "it is now a common knowledge that given the vagaries in the international oil market, we can no longer depend on the revenue from federal sources to implement our development agenda.
"Therefore, it is imperative for this administration to look inward through expansion of our internal revenue base. In Year 2016, focused attention will be given to the actualization of new revenue sources such as the Land Use Charge and the automation of revenue collection process via the implementation of Integrated Tax Administration System (ITAS).
"It is our desire to sustain the sensitization of our people to see the need for prompt payment of taxes in order to execute the laudable people-oriented programmes/projects of this administration. On our part as Government, committed to the principles of transparency and accountability, let me assure you that we will make judicious use of all revenues at our disposal. While we remain true to our pledge, I wish to appeal once again to all and sundry not to politicise this important issue that borders on civic responsibility and our collective survival as a state and as a people."

Load more