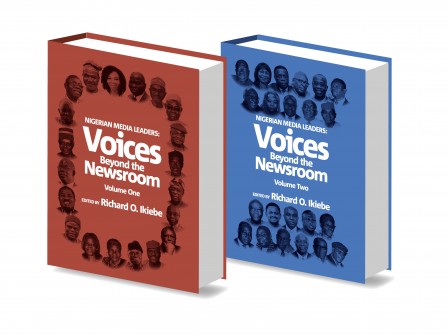 Veteran journalist and former governor of Ogun State, Chief Segun Osoba, has donated two volumes of a major media book, Nigerian Media Leaders: Voices Beyond the Newsroom, to the mass communication departments of 25 educational institutions in Nigeria.
The higher institutions include the University of Lagos, Nigerian Institute of Journalism, University of Ibadan, University of Maiduguri, Ahmadu Bello University, University of Nigeria Nsukka, University of Calabar, and the University of Benin.
Nigerian Media Leaders: Voices Beyond the Newsroom (volumes 1 and 2) is the product of two-and-half years of research into Nigerian media, its history, issues and leaders, traversing different parts of the country.
It featured collaboration by the Pan-Atlantic University and the Nigerian Guild of Editors. Forty-two of the total 82 Nigerian media leaders and scholars interviewed are published in these two volumes.
Two more volumes will be issued in the first quarter of 2016.
At the public presentation of the book in September 2015, Osoba had noted, "We media peope celebrate others, forgetting ourselves. And this is where I disagree totally with Adamu Ciroma. When he [Ciroma] was asked, 'Why have you not written?' he said his religion does allow self-praise. But there is a difference between self-praise and putting things on record… In this era of Internet and digital life, we should start putting records straight so that future generations will know… I was happy when I read the content of the books."
The editor of the publication, Richard Ikiebe, a lecturer at the School of Media
and Communication (SMC), Pan-Atlantic University, commends Chief Osoba's
contribution to enhancing media scholarship in Nigeria.
"The school is grateful for the contributions of Aremo Osoba through this donation to 25 institutions across the country. We believe that both students and teachers in these departments will benefit from it."
Ikiebe, who is also the director of SMC's Centre for Leadership in Journalism, adds, "As we commend Aremo Osoba's donation, there are still many departments and institutions that will appreciate such a gift, including departments of History, Mass Communication, English
and Political Science, and many institutions' libraries."

Load more