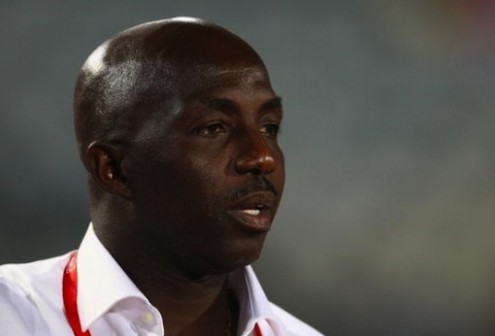 Coach of the National U-23 Team, Dream Team VI, Samson Siasia, says he is optimistic that Nigeria will win the Rio 2016 Olympics football.
Siasia said this on Monday shortly on arrival at the Nnamdi Azikiwe International Airport, Abuja.
The News Agency of Nigeria (NAN) reports that the Dream Team VI defeated their Algerian counterpart 2-1 in Saturday's final of the CAF U-23 Africa Cup of Nations in Senegal to win the trophy.
"I am looking forward to what we can achieve in Rio. We were there in 2008 and we got to the finals.
"This time, if we don't win the games, it means we have done nothing; I think the game is a very difficult and long road, but we need to be patient.
"If we start on time with our preparations, we might be able to do something,'' he said.
Siasia advised the players to remain focused and try not to allow the victory to get into their heads.
"I want the boys to be hardworking and remain disciplined, just as they did during the Africa Cup of Nations,'' he said.
Siasia expressed joy that Nigeria won the cup, adding: "I thank Nigerians for their prayers and support for the team.''
He also thanked the players for coming out to play for the country and their determination to win the championship in spite of the challenges.
Siasia said that the Nigeria Football Federation had discharged the players for the season.

Load more