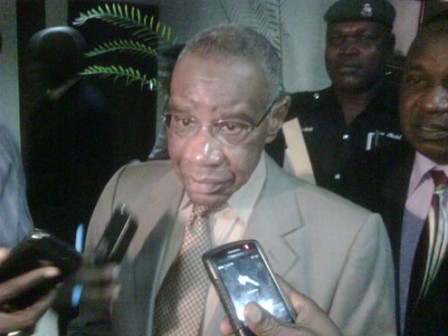 The Chief Justice of Nigeria (CJN), Justice Mahmud Mohammed, on Tuesday in Abuja implored new wigs to exhibit high professional ethics, to promote dignity in the Law profession.
Mohammed gave the advice in his address at the Call to Bar ceremony organised by the Nigerian Law School for successful candidates at the September 2015 final examinations.
He commended the new wigs for successfully passing the Bar exams and for being found to be worthy in character and learning as certified by the Council of Legal Education.
According to him, the Body of Benchers, after carefully screening each of the new wigs, found them to be fit and proper persons to be admitted to the Nigerian Bar.
The CJN described Law practice as a noble profession, urging the news wigs to uphold its ethics and dignity.
"The noblest and only learned profession of Law is known for its sanctity, integrity, honesty, objectivity and for the Rule of Law.
"I, therefore, implore you as learned friends, to demonstrate highest level of professional ethics and decorum wherever you find yourself and steadfastly preserve the honour and dignity of the profession.
"As lawyers duly called to the Nigerian Bar, you now qualify as barristers and solicitors of the Supreme Court of Nigeria."
He said that the privilege afforded the new wigs the licence to appear before any court in Nigeria.
He advised the new wigs to enroll at the Supreme Court, adding that failure to adhere to such instruction, was fatal to their chances of practicing, irrespective of their certificates.
Earlier, Mr Olarenwaju Onadeko, the Director-General, Nigerian Law School, said that the performance of the new wigs at the final examination was a deviation from the October edition.
He said that the ceremony was unusual because of the decision of the Council of Legal Education to undertake an additional session within the 2014/2015 school year.
According to him, the aim was to prevent a repeat of what happened in 2013 when a large number of Law graduates was affected by Academic Staff Union of Universities' strike.
"That was done to prevent large number of Law graduates from having to wait for a year before attending the Law school.
"Students of that class, generally known as the backlog set, commenced their studies in April, 2014 and were called to the Bar last October."
The director-general enjoined lawyers to refrain from prefixing their names with the word Barrister, saying that it is not a title.
The News Agency of Nigeria (NAN) eight of the wigs bagged First Class, 370 had Second Class Upper, 1, 056 Second Class lower and 1, 843 Pass and.
A total of 3, 277 candidates sat for the 2015 Bar final examination.

Load more