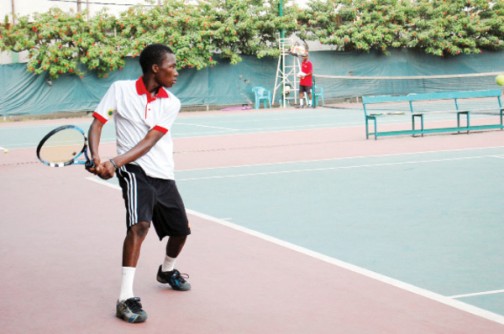 At least four Nigerian players fought their way into the second round of the Main Draws of second leg of 15th Governor's Cup Lagos Tennis Championship at the Lagos Lawn Tennis Club, Onikan on Tuesday.
Sylvester Emmanuel beat Russian Alexei Filenkov in straight set of 7-6(5), 7-5. He now set up a second round match against number 8th seed from France Fabien Reboul on Wednesday.
Joseph Imeh Ubong of Nigeria also defeated American Anderson Reed in 6-2, 1-6, 6-3 game. He will face number three seed from Zimbabwe, Takanyi Garanganga in the second round game.
Umaru Balami beat Ghana's Pascal Ziyab Alome in straight set of 6-3, 7-5, while Moses Michael, who won the 14th edition of the Governor's Cup defeated compatriot Albert Bisong Bikom to set up a second round game against number one seed in the men's singles, Aldin Setkic from Bosnia.
In other results, Clifford Enosoregbe was not so lucky against number 4th seed, Sadio Doumbia as he fell in 3-6, 2-6 game. Karim-Mohammed Maamoun from Egypt defeated David Pel from The Netherlands 1-6, 6-2, 6-3. Benin Republic's Deimas N'Toha defeated Ghana's George Darko in 6-4, 6-1 game.
In the women's singles, Sarah Adegoke was beaten by Mara Schmidt of USA in 0-6,3-6 game. Christie Agugbom was also defeated in another straight set of 0-6, 0-6. France's Fiona Coding beat Nigerian Loveth Donatus 6-3, 6-0. First leg winner in the women's singles, French Tessah Andrianjafitrimo beat Christie Nwankwo 6-0, 6-0. Julia Terziyska of Bulgaria defeated Ines Murta of Portugal in straight set of 6-2,6-4.

Load more