Funsho Arogundade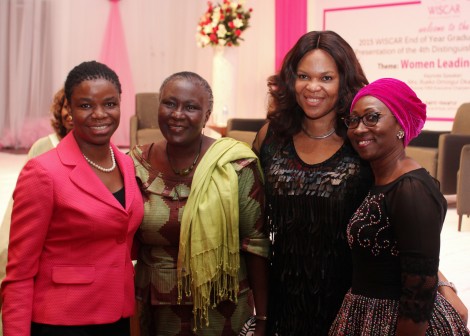 Mrs. Ifueko Omoigui-Okauru, former Executive Chairperson of Federal Inland Revenue Service, FIRS, has called on Nigerians to embrace change in their personal lives and break away from the cultural shackles that weigh many down.
Omoigui-Okauru was speaking recently at the seventh end of year graduation/induction ceremony of Women In Successful Careers (WISCAR), a non-profit organisation held at the Agip Recital Hall, Muson Centre, Onikan, Lagos.
According to her, to lead change, people must first champion a mindset change, not from a societal level but on a personal level.
"We need to champion a change of mindset from those cultural frameworks that limit us. We need to build a mindset of innovation, learning, improving and taking records. We can't fight corruption without proper records. We must not just accept societal norms, but question it so as to improve on it. Those who have achieved in life do not change the world, they change their space," Omoigui-Okauru told the audience consisting of scores of successful career women and entrepreneurs.
The former Joint Tax Board boss, who also was the recipient of the 4th Distinguished WISCAR Award, delivered a keynote Speech titled 'Our Paradigm and our Lens'.
At this year's event with the theme 'Women Leading Change', the co-panelists were Prof. Remi Sonaiya, Nigeria's first female presidential candidate under the banner of KOWA Party; Lynda Saint-Nwafor, Chief Technical Officer, MTN Nigeria and Yewande Sadiku, Executive Director, Stanbic IBTC Bank.
These distinguished women shared their experiences and advised on how to succeed as a career woman without it having adverse effect on the home.
In her remark at the event, Mrs. Amina Oyagbola, founder of WISCAR and MTN Nigeria top executive, stated that in her several years as a professional she has come to the full realization of the hard work, diligence and creativity of the Nigerian Woman.
"Nigerian women are achievers. This has been further brought home to me recently by the great strides WISCAR made when we set up sub-committees of the WISCAR advisory board. The successful women who have served on these subcommittees have given of themselves unstintingly and I thank them," she said.
Oyagbola added that WISCAR will continue to deploy programmes and provide frameworks to enable young female professionals achieve their potential and their aspirations.
WISCAR has earned a reputation for building a formidable network of focused women who will facilitate a new chapter of experience in the workplace and in organizations.
Since its inception in 2008, WISCAR has through the intensive and unique 12 month structured "WIN with WISCAR" mentoring programme, equipped several professional women with relevant skills and competencies to effectively manage their careers, assume leadership positions and contribute to nation building.
The 'Win with WISCAR' mentoring programme and School of Excellence provides structures and frameworks to help women succeed professionally and personally to contribute to the development of the nation.
Meanwhile, WISCAR graduated its sixth stream of mentees and inducted the seventh set who will go through the intensive and unique twelve months structured WIN with WISCAR mentoring programme.
And as a contribution to the WISCAR legacy, this year's graduating mentees were presented a cheque of N350,000 while mentees from other streams shared inspiring stories.
At the special ceremony Mrs Bolanle Ambode, wife of Lagos State Governor, was represented by Mrs. Ibironke Kazeem. Also in attendance were members of the WISCAR Advisory Board; Maryam Uwais, Muni Shonibare, Boma Ozobia, Suzanne Iroche, Habiba Balogun amongst others.

Load more