*Meets Great Green Wall Agency, Imperial College London, delegations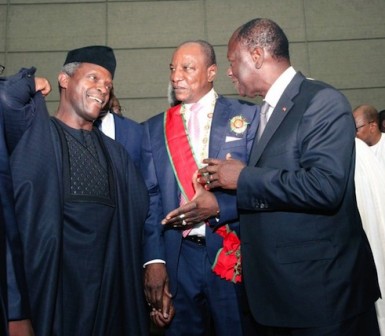 Following the conduct of peaceful elections and transitions from one government to the other in the continent, it is clear that democracy has come of age in Africa, Nigeria's Vice President, Prof. Yemi Osinbajo posits.
"It shows that democracy has come of age in Africa. All over, you can see the demonstration of peaceful elections, peaceful transitions from one government to another," the Vice President said yesterday in Conakry, Guinea at the inauguration of Prof. Alpha Conde's second term in office.
Prof Osinbajo who represented President Muhammadu Buhari at the ceremony attended by several African presidents and leaders, noted that, peaceful elections are producing right leaders in the continent.
He explained that the conduct of peaceful elections in African countries "point to the fact that democratic elections in Africa could produce leadership in the right way," stressing that "we are seeing that everywhere in Africa".
While lauding the leadership of the Guinean President and congratulating the people, Prof. Osinbajo described President Conde as "a great leader, a person who has committed himself to developing his people; a leadership that focuses on development of infrastructure and human capital".
Earlier in his remarks at the inauguration, President Alpha Conde expressed willingness for greater bilateral cooperation with Nigeria while seeking more support and assistance for the new administration.
Besides African presidents, dignitaries from Nigeria who attended the ceremony include APC leader, Asiwaju Bola Ahmed Tinubu, Governor Rauf Aregbesola, from Osun, former federal ministers, Dr. Oby Ezekwesili and Mr. Demola Seriki.
Meanwhile, today, the Vice President described the problem of desertification in several Northern states as "a very urgent, dangerous trend that we should attack with a lot of fervor."
He spoke while receiving a delegation of the National Agency for the Great Green Wall, NAGGW, led by its Director-General, Engineer Goni Ahmed.
While commending the agency's documentary presentation at the meeting, Prof. Osinbajo noted that "if we allow decertification, poverty would worsen, and we would have ourselves to blame. So we have to take the matter very seriously."
The VP also met earlier today with a delegation from the Partnership for Child Development, PCD, Imperial College, United Kingdom which is supporting the federal government's Homegrown School Feeding Programme, an important component of the Buhari presidency's Social Investment plans in the forthcoming 2016 budget. The delegation was led by PCD's Executive Director, Dr. Lesley Drake.

Load more